One More 'Transformers: The Last Knight' Trailer Destroys All The Things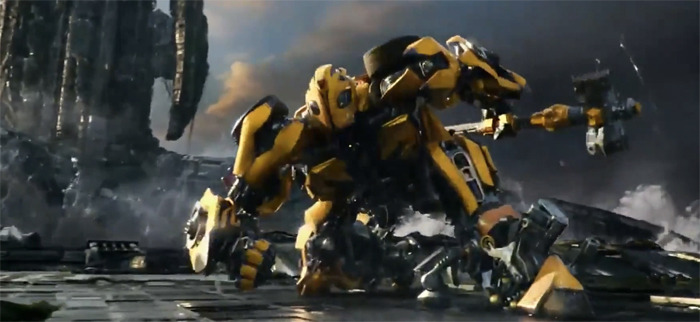 Last month, Paramount Pictures released what was said to be the final trailer for this summer's Transformers: The Last Knight. But with a few weeks to go until the sequel from director Michael Bay hits theaters, it should come as no surprise that there was still (at least) one more trailer waiting in the wings.
A new Transformers: The Last Knight trailer has debuted, and while it's a little shorter than the previous theatrical trailers, it stands out because almost the entirety of the trailer is simply epic shots of action with quiet music. There's only one line of dialogue at the end from Sir Anthony Hopkins. So if you go to see Transformers movies for the crisp writing, this trailer might disappoint you.
Watch the latest Transformers The Last Knight trailer after the jump.
Since this is a Transformers movie we're dealing with, we knew there would be plenty of destruction. However, this one appears to promise the most destruction yet. Whatever those giant chunks of metal are falling to Earth, they are messing up everything they come into contact with. Not even the pyramids are safe from being destroyed. It should be noted though that the action in this movie does seem to have been careful to have this destruction take place in places without high population, perhaps learning a lesson from Man of Steel.
This Transformers sequel is just the first of many developing movies to come out of a writers room that was established to keep the toy-based franchise going for years. Not only are there more sequels planned, but there's that Bumbleebee spin-off in the works, which has Hailee Steinfeld recently reported to be in talks for the human lead role.
Paramount Pictures certainly needs a hit after Ghost in the Shell bombed hard at the box office, and Baywatch didn't help matters for them either. With Pirates of the Caribbean having diminishing returns for Disney, will Transformers also fall short of expectations at the box office this summer? We'll find out in just under a few weeks.
When all seems lost, a few brave souls can save everything we've ever known. The Last Knight shatters the core myths of the Transformers franchise, and redefines what it means to be a hero. Humans and Transformers are at war, Optimus Prime is gone. The key to saving our future lies buried in the secrets of the past, in the hidden history of Transformers on Earth. Saving our world falls upon the shoulders of an unlikely alliance: Cade Yeager (Mark Wahlberg); Bumblebee; an English Lord (Sir Anthony Hopkins); and an Oxford Professor (Laura Haddock). There comes a moment in everyone's life when we are called upon to make a difference. In Transformers: The Last Knight, the hunted will become heroes. Heroes will become villains. Only one world will survive: theirs, or ours.
Transformers: The Last Knight opens on June 21.