Sam Mendes May Direct Disney's Live-Action 'Pinocchio'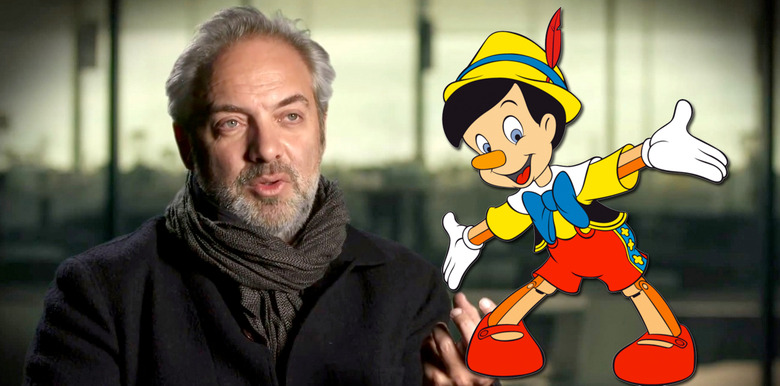 Disney just keeps tearing through their vault of animated classics in order to bring younger audiences live-action remakes of the movies that their parents fell in love with when they were kids. Beauty and the Beast became a box office sensation this year, and The Lion King, Dumbo, Mulan and Aladdin are marching towards production. Now their remake of Pinnochio is making some progress.
While Pinocchio was announced back in the spring of 2015, news has just surfaced that Skyfall director Sam Mendes is in early talks to direct the remake of the classic 1940 animated film about a woodworker named Geppetto who makes a wish on a falling star for his recently created wooden puppet to become a real boy.
Find out more about Sam Mendes directing Pinocchio below.
Deadline was first to report Sam Mendes, who has never ventured into family film territory before (although he did direct that Charlie and the Chocolate Factory stage musical), is in talks to land the job at Disney. Right now the talks are early, so there's a chance that the Oscar-winning director of American Beauty and Road to Perdition could fall away from the project, but if a deal is finalized, he would be a real catch for Disney to continue their streak of successful live-action remakes.
The script for Pinocchio comes from Chris Weitz, who previously wrote Disney's live-action remake of Cinderella for Kenneth Branagh. Weitz will also be producing through his Depth of Field production banner. Beyond that, there are no other details about the remake at this time.
There have been countless adaptations of Pinocchio over the years, but this will be the first from Disney since their animated adaptation arrived 77 years ago. There was talk of a big Pinocchio movie in the works over at Warner Bros. Pictures a couple years ago with Paul Thomas Anderson directing and Robert Downey Jr. starring, but Anderson fell away from the project. Since then Ron Howard has come on board the film, but we haven't heard any updates.
As we noted, Pinocchio is just one of many remakes that Disney has in the works. In addition to the previously mentioned titles, They're also working on The Little Mermaid and a spin-off about the 101 Dalmatians villain Cruella De Vil. There are bound to be many more Disney projects like this coming down the road, so stay tuned for more information as it becomes available.