'Batman And Bill' Trailer: The Truth About The Creation Of Batman Explained In A New Documentary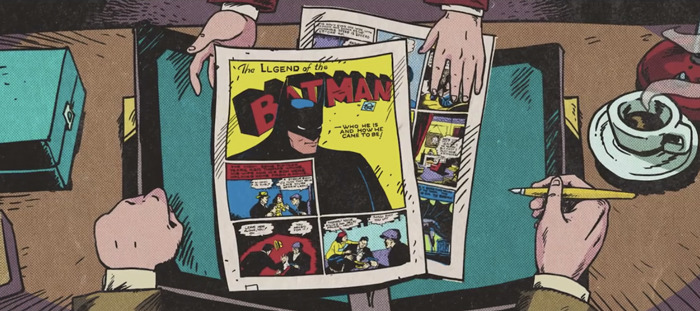 We may receive a commission on purchases made from links.
Everyone thinks Bob Kane is the sole creator of Batman. What the new documentary Batman and Bill presupposes is, maybe he's not.
Even though Bob Kane is frequently and historically associated with the creation of Batman, the more educated comic book fans now know that many of the signature elements of Batman's long comic book history were created by another man named Bill Finger. But why is his name not nearly as synonymous with the creation of The Dark Knight? A new documentary explores why Finger was omitted from Batman's history and only just recently started getting the credit that he's due.
Watch the Batman and Bill trailer below.
As the trailer explains, though Bob Kane had the initial idea to create a superhero who was quite the opposite of DC Comics' Big Blue Boy Scout known as Superman, all of the signature traits of Batman's comic book adventures came from Bill Finger. Not only did Finger create Batman's trademark design and draw his stories, he was responsible for creating some key pieces of The Caped Crusader's mythology. Robin, The Joker, The Penguin, The Riddler, Scarecrow, Commissioner Gordon, Gotham City and much more were all added into Batman's universe by Bill Finger.
Thankfully, since 2015, Bill Finger has started receiving prominent credit for his pivotal contributions to the creation of Batman, even appearing in the credits for Gotham and Batman v Superman: Dawn of Justice, and presumably anything associated with Batman from here on out.
But how does a man who is so integral to the creation of one of the most revered superheroes of all time get shoved to the side and almost forgotten by comic book history? That's the story that Batman and Bill is setting out to tell, inspired by author Marc Tyler Nobleman's endeavor to make sure Bill Finger got credit for his work, which he chronicled in the book Bill The Boy Wonder: The Secret Co-Creator of Batman.
In addition to Nobleman, plenty of comic book historians, artists, Batman experts (like comic writer and filmmaker Kevin Smith) and more appear in the documentary to talk about this tragic tale of ignorance in the creation of Batman that went on for far too long.
Everyone thinks that Bob Kane created Batman, but that's not the whole truth. One author makes it his crusade to seek justice for Bill Finger, a struggling writer who was the key figure in creating the iconic superhero, from concept to costume to the very character we all know and love. Bruce Wayne may be Batman's secret identity, but his creator was always a true mystery.
Batman and Bill will be available to watch on Hulu on May 6.