All Four 'Avatar' Sequels Receive New Release Dates As Production Begins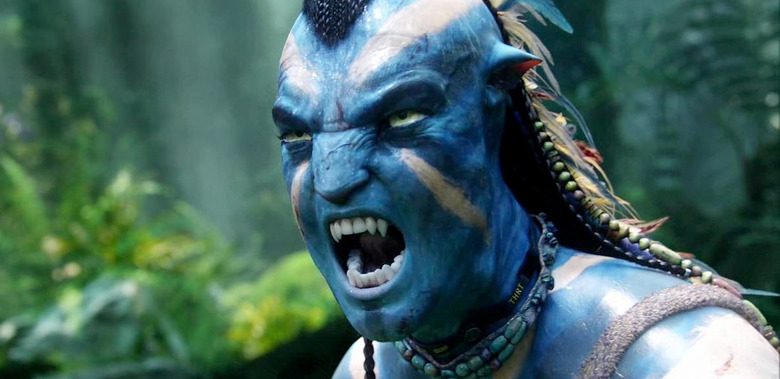 It's become a running joke by now: they set a date for Avatar 2 and then, after months (or years!) of nothing, it gets delayed. The sequel to the highest grossing film of all time was originally supposed to arrive in 2014...and then it was pushed back to 2016...and then it was pushed back to 2018. So when writer/director James Cameron revealed that the film wasn't going to meet that last date, no one even blinked. Of course Avatar 2 wasn't going to be released next year!
Because it's going to be released in three years. Production has officially begun on the four sequels to the 2009 original, with the first movie now due out in 2020.
The news was revealed on the official Avatar Facebook page, where Cameron posed for a picture with his crew and announced the start of concurrent production on Avatar 2, Avatar 3, Avatar 4, and Avatar 5. There have been many conversations about whether or not audiences will care about this series by the time a new one arrives, but Cameron is a wily fellow – whether we want them or not, four more Avatar movies are coming and they're filming at the same time.
Avatar 2 is due out on December 18, 2020 and Avatar 3 will follow a year later on December 17, 2021. After a three year gap, Avatar 4 will arrive on December 20, 2024 and Avatar 5 will wrap everything up on December 19, 2015. Here's the official statement:
Great to be working with the best team in the business! Avatar takes flight as we begin concurrent production on four sequels. The journey continues 

December 18, 2020

, 

December 17, 2021

, 

December 20, 2024 and December 19, 2025

!
This announcement arrives at a key moment for this franchise. Walt Disney World is set to open the Pandora: The World of Avatar next month and all eyes are on it, with pop culture enthusiasts and major corporations alike wondering if it will draw the same kind of attention as other recent theme park endeavors. In the unlikely event that tourists simply reject Pandora, Cameron will still have the last laugh – cameras have already started rolling.
And while one of the internet's major pastimes involves everyone rolling their eyes at the original Avatar, you can't ignore that $2.7 billion gross and you can't ignore the fact that James Cameron has always been one step ahead of just about everyone else in Hollywood's orbit. He's always given the people what they want and he's always proved his naysayers wrong. I'm the camp that enjoys Avatar but also can't say I'm ecstatic about four sequels at the moment. However, I look forward to Cameron making me care. He's pretty, pretty good at that.