The 'Deadwood' Movie Script Is Ready, Says Ian McShane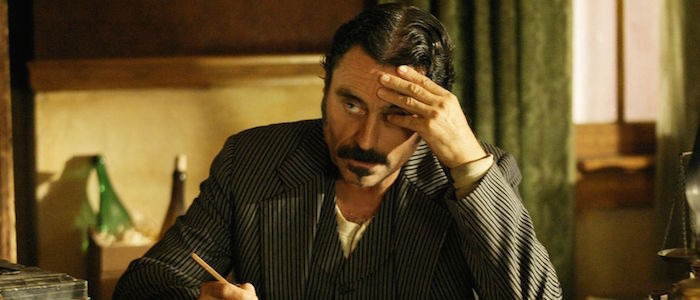 When Deadwood, one of the greatest television shows of all time, was cut down in its prime following a spectacular third season and a melancholy finale, fans took comfort in the knowledge that a series of TV movies were apparently on the way to tie up loose ends and give the series a proper send-off. Thanks to regime change at HBO, those sequel movies never happened. However, those who were enthralled by David Milch's dusty, profane, and poetic western series have kept hope alive – maybe it will come back. Someday.
Now, according to series star Ian McShane, the blueprint for TV movie follow-up has been finished. It's all in the hands of HBO.
Speaking with TV Line, McShane (who stars in Starz's upcoming American Gods series) explained that Milch has turned in a screenplay and that the ball is officially in the network's court:
[A] two-hour movie script has been delivered to HBO. If they don't deliver [a finished product], blame them. [...] I'll be seeing him for lunch [soon]. We'd all love to do it... It would be nice to see all of the old gang again
It's been over a decade since Deadwood stumbled into the sunset (riding off would be too elegant for a show so steeped in human flaws), and it feels like we've gotten wind of this movie project every year or so. Every time, it's more of the same: the right pieces need to come together. Earlier this year, HBO's Casey Bloys explained that the script was being written and he hadn't seen anything yet:
David Milch is still writing. I believe he's writing a Deadwood movie that I have not read. When it's ready we will take a look at it.
And here we are. The script is apparently ready. Hopefully, we'll be hearing good news from Bloys soon enough.
If you're eager to know what could happen in the film, you could always research the real Deadwood. While the show diverged from history when necessary, the broad strokes were always intact. In fact, history itself has a suggestion for what the movie could be about! A major fire destroyed much of the town in 1879, forcing many of the citizens to leave and find better lives elsewhere. That would make for one hell of way to conclude the entire story, sending these characters out in a literal blaze of glory.
In the meantime, Milch is keeping busy with HBO: he's reportedly collaborating on the third season of True Detective.