Watch The Trailer For Don Rickles' Final TV Show, Where He Roasts Amy Poehler, Zack Galifianakis & More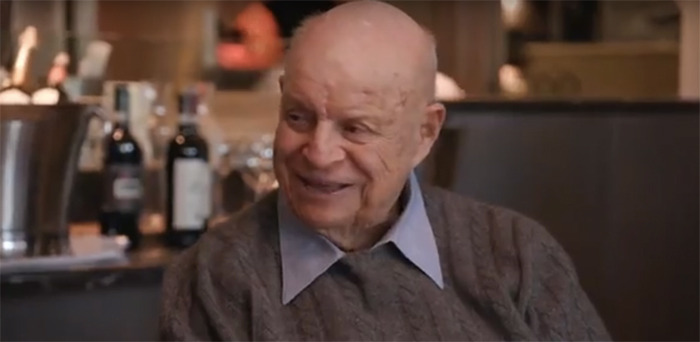 Sad news came yesterday when we heard that legendary comedian Don Rickles had passed away. In recent years, Rickles had become known as the voice of Mr. Potato Head in pretty much every piece of Toy Story multimedia. But his true legacy lies in stand-up comedy as one of the most gifted insult comics to ever take the stage. Rickles was so good that audiences were never really sure if he was only joking, often turned off by his brash sense of humor, which kept him from becoming a huge star of film and TV.
Don Rickles once had a short-lived NBC program that only lasted a season, but that didn't stop AARP Studios from giving him his own show called Dinner with Don, where he sat down for a meal with some of today's biggest names in film and television. In honor of the late comedian, AARP wanted to showcase the charm and endless wit of Don Rickles by teasing the TV series.
Watch the Dinner with Don trailer below.
It's clear that Rickles isn't quite as fast of a talker as he used to be in his prime, but that almost adds another level of charm to his roasting. Seeing how comedians like Zack Galifianakis, Amy Poehler and Sarah Silverman hang on his every word just goes to show you how much respect they have for the man as a comic, and they love when he decides to make jokes at their expense.
Other guests on the show include more comedians like Billy Crystal and Jimmy Kimmel while actors like Robert De Niro, Vince Vaughn, Paul Rudd and Marisa Tomei also sit down for a chat.  However, the one episode that I really want to sink my teeth into is the one where Don Rickles sits down with director Martin Scorsese. One of the best performances Rickles ever gave was in Scorsese's 1995 film Casino, and I'll bet listening to those two go back and forth over a meal is going to be amazing.
Deadline reports all 10 episodes of the show were completed before Don Rickles passed away, but the show doesn't currently have a distributor and thus, doesn't have a release date yet. Hopefully it gets picked up in the wake of Don Rickles passing away and we'll get to see this show sooner than later. Maybe Netflix can just pick it up and get it out as soon as possible.