Geoff Johns Can't Confirm 'Wonder Woman' Sequel Plans Just Yet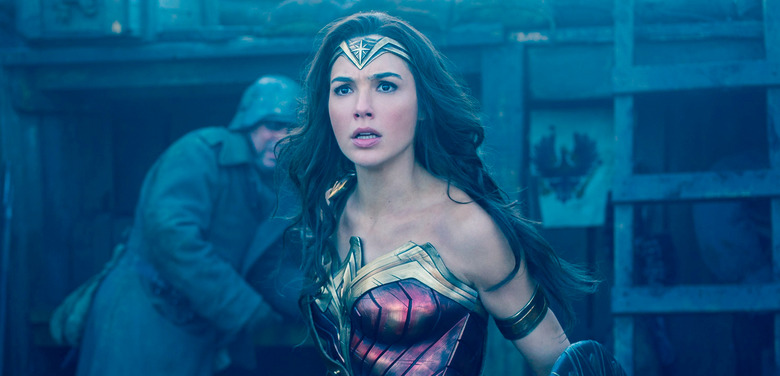 The release of Wonder Woman is just a couple months away, and as more footage of the movie has been shown at CinemaCon and WonderCon over the past week, fans are getting more excited to see the DC Comics superheroine get her own adventure on the big screen. But before you get too excited about a Wonder Woman franchise, you should know that it sounds like Warner Bros. and DC are waiting to see what happens with the hero's first outing before they make any grand pans for the future.
While making an appearance at WonderCon this past weekend, DC Comics President and Chief Creative Officer Geoff Johns was asked about Wonder Woman sequel plans, and his answer indicated that they're not getting ahead of themselves for the time being. 
Batman-News was on hand at the WonderCon panel and posted this:
Someone asked Geoff Johns if there will be a #WonderWoman sequel. "I can't confirm that," he says. #WonderCon

— Batman-News.com (@BatmanNewsCom) April 2, 2017
While that sounds worrisome to some, it's more likely that Warner Bros. Pictures and DC Comics don't want to commit to a sequel before they see how the critics, audiences and the box office react to the release of the movie. Movies like Batman v Superman: Dawn of Justice and Suicide Squad have been said to have underperformed at the box office (at least when it comes to studio expectations), but they're still pulling in plenty of money. Wonder Woman might not be so lucky though.
Since Wonder Woman already tied into Warner's DCEU, one would assume that the movie will get plenty of attention. But at the same time, there are some audiences who have been disappointed too much by the movies in the comic universe thus far, and they might not be willing to give Wonder Woman (or any other DC Comics movies) a chance. On the other hand, with Wonder Woman never getting her own movie before (and being one of the best parts of Batman v Superman), she might be exactly what fans have been waiting for.
After seeing new footage of Wonder Woman during an edit bay visit at the film's post-production facility in London, I was very impressed by what I saw. It seems to have the heart that's been missing from the previous movies (at least from my perspective), and Gal Gadot makes Diana Prince the most engaging hero in the DCEU so far. That just might be enough to start to turn the DCEU around for those fans who have felt wrong by the overarching franchise to date. If that's the case, then greenlighting a sequel should be a no-brainer, so don't get worried just yet.
Wonder Woman arrives on June 2.
Wonder Woman" hits movie theaters around the world next summer when Gal Gadot returns as the title character in the epic action adventure from director Patty Jenkins. Before she was Wonder Woman, she was Diana, princess of the Amazons, trained to be an unconquerable warrior. Raised on a sheltered island paradise, when an American pilot crashes on their shores and tells of a massive conflict raging in the outside world, Diana leaves her home, convinced she can stop the threat. Fighting alongside man in a war to end all wars, Diana will discover her full powers...and her true destiny.
Joining Gadot in the international cast are Chris Pine, Connie Nielsen, Robin Wright, David Thewlis, Danny Huston, Elena Anaya, Ewen Bremner and Saïd Taghmaoui. Jenkins directs the film from a screenplay by Allan Heinberg and Geoff Johns, story by Zack Snyder & Allan Heinberg, based on characters from DC Entertainment. Wonder Woman was created by William Moulton Marston. The film is produced by Charles Roven, Zack Snyder, Deborah Snyder and Richard Suckle, with Rebecca Roven, Stephen Jones, Wesley Coller and Geoff Johns serving as executive producers. Warner Bros. Pictures presents, in association with RatPac-Dune Entertainment, an Atlas Entertainment/Cruel and Unusual production, "Wonder Woman."