'Annabelle: Creation' Trailer: Learn How The Creepy, Demonic Doll Came To Be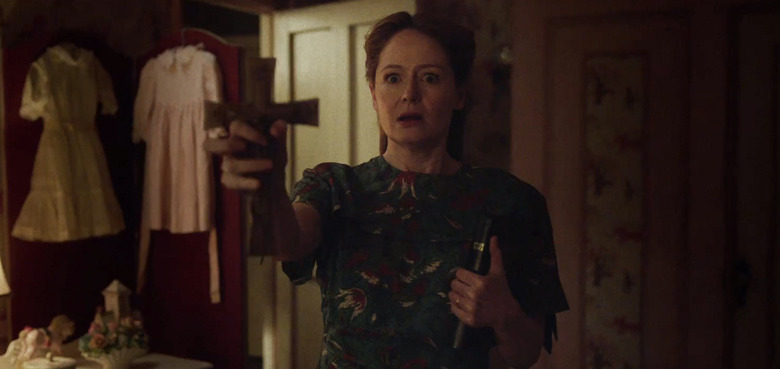 Even though The Conjuring spin-off Annabelle showed us one of the earlier supernatural frights created by the doll that eventually ends up in the hands of paranormal investigators and demonologists Lorraine (Vera Farmiga) and Ed (Patrick Wilson) Warren, we still don't know much about where the creepy toy came from. But we'll find out late this summer.
Annabelle: Creation will take us back even further into the history of the possessed doll with Lights Out director David F. Sandberg bringing us the origin story of how this doll became evil and who it terrorized first.
Watch the Annabelle Creation trailer below.
There have been hints about what kind of spirit resides within Annabelle, but now we get to see the story of she came to be, because origin stories are always necessary in Hollywood nowadays. The daughter of a dollmaker (Anthony LaPaglia) and his wife (Miranda Otto) meets a tragic end, but a spirit shows up inside the house and wants to be placed inside the doll. Hoping to hold on to their departed daughter, they agree, but it doesn't turn out exactly as they planned.
The trailer wants to make it perfectly clear that this sequel also takes place in the same universe of The Conjuring, dropping the franchise name towards the end of the trailer. Will Patrick Wilson and Vera Farmiga show up in this movie as bookends to the story as they did in the first film? It's certainly possible, and it would help sell the shared universe even more.
Though talking up The Conjuring franchise for box office dollars is good for the studio's bottom line, that could become a problem for Warner Bros. Pictures if a certain lawsuit from author Gerald Brittle ends up sticking. He's filed a complaint seeking damages in $900 million claiming that he had an exclusive deal with Lorraine Warren and that the producers of the film lifted details from his 1980 book The Demonologist without his consent. It's a 355-page complaint that was filed just this past week, and it could cause some trouble.
Anyway, Annabelle: Creation is written by Gary Dauberman, who also wrote Annabelle, and the film stars Stephanie Sigman (Spectre), Talitha Bateman (The 5th Wave), Lulu Wilson (Ouija: Origin of Evil), Philippa Coulthard (After the Dark), Grace Fulton (Badland), Lou Lou Safran (The Choice), Samara Lee (Foxcatcher) and Tayler Buck.
It hits theaters late this summer on August 11.
Several years after the tragic death of their little girl, a dollmaker and his wife welcome a nun and several girls from a shuttered orphanage into their home, soon becoming the target of the dollmaker's possessed creation, Annabelle.