Rainn Wilson Joins 'Star Trek: Discovery' As An Original Series Character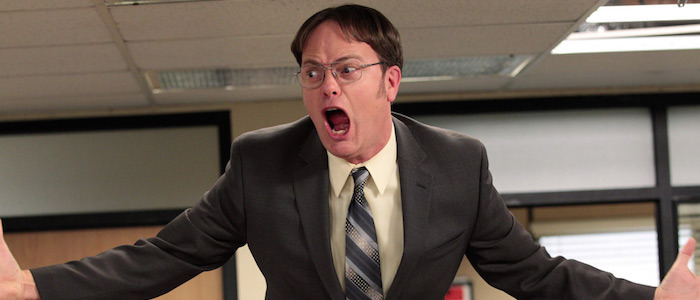 Star Trek: Discovery takes place a decade before the events of the original Star Trek series and you know what that means: we're going to see some familiar faces. Specifically, we're going to see some new actors playing familiar faces. We already knew that Sarek, the father of Spock, is going to have a role on the show and that he would be played by actor James Frain. Now, another character who first appeared in the original '60s series will stop by to say hello...and he'll be played by Rainn Wilson.Variety reports that Wilson has been cast as Harcourt Fenton "Harry" Mudd on Star Trek: Discovery, although it's not clear if this is a one-off appearance or if he'll be a recurring character. What we can tell you is that Harry Mudd appeared in two episodes of the original Star Trek and in one episode of the (underrated!) animated series. In all three episodes, he was played by Roger C. Carmel and he always acted as an unlikely antagonist to the crew of the Enterprise.
Unlike most of the threats encountered on Star Trek, there's nothing especially terrifying or awe-inspiring about Mudd – he's just a skilled con artist, a scheming rogue who gets himself into all kinds of trouble in pursuit of profit and pleasure. His episodes are almost purely comedic and sometimes controversial amongst fans. Personally, I think he's a hoot and find his decidedly bizarre plots to be an amusing breather from the more serious-minded episodes.
In other words, he's a great fit for Wilson. Most famous for playing Dwight Schrute on NBC's remake of The Office, Wilson is so very good at playing imbeciles who think a little too highly of their own abilities and don't see themselves crashing and burning until it's too late. Harry Mudd is the kind of guy who thinks he's Han Solo when he's really just some schmuck with a lot of luck and a way with words. I'm very interested to see how Discovery treats him and whether or not they're willing to follow in the footsteps of past Star Trek series and pause the sci-fi adventure for a purely comedic episode or two.
While Wilson is best known for his work in film and television comedies, he's brushed shoulders with Star Trek before. Sort of. He played Lahnk in 1999's Galaxy Quest, the brilliant send-up of the Trek mythos that's a better Star Trek movie than, well, most Star Trek movies.
The first season of Star Trek: Discovery is filming now. No premiere date has been set, but it's expected to arrive this Fall.