'Wreck-It Ralph 2' Title And Logo Revealed: 'Ralph Breaks The Internet'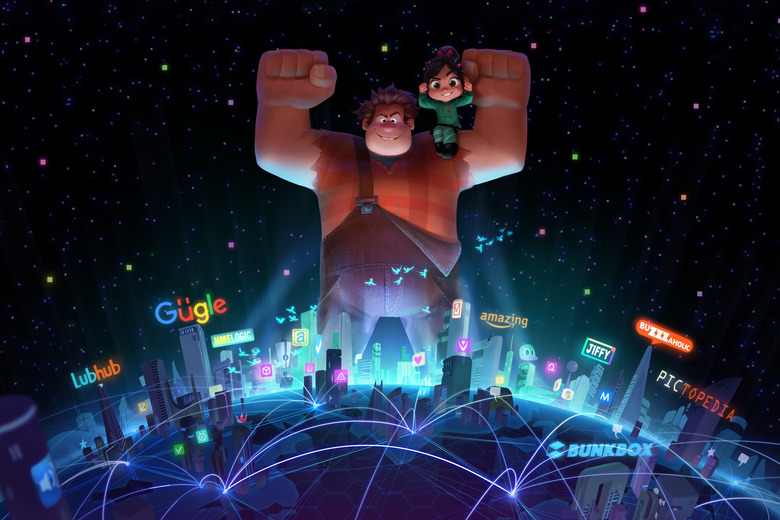 The Disney panel at CinemaCon 2017 kicked off with a little bit of Wreck-It Ralph 2 news. Or rather, it kicked off with the actual title of the second Wreck-It Ralph movie, which is still set to hit theaters in 2018.
While our own Peter Sciretta is in attendance at CinemaCon and will provide full details on the panel soon, Disney confirmed on Twitter that the sequel to their 2012 video game-centric animated hit will be titled Ralph Breaks the Internet: Wreck-It Ralph 2. It will arrive on March 9, 2018.
Who's ready to break it? 👊🏻"Ralph Breaks the Internet: Wreck-It Ralph 2" hits theaters on March 9, 2018. pic.twitter.com/2JYYnU8ZVS

— Disney D23 (@DisneyD23) March 29, 2017


Ralph Breaks the Internet will be directed by Rich Moore and Phil Johnston. Moore is a Disney veteran, having co-directed Wreck-It Ralph and Zootopia. The latter co-wrote the screenplays for Wreck-It Ralph and Zootopia and will make his feature directorial debut with this sequel.As reported last year (and as indicated by the title), part two will find John C. Reilly's sweetheart of a video game villain escaping the arcade and finding himself online. And yes, Ralph will once again be joined by Sarah Silverman's Vanellope. As Johnston has previously said:
The world of the internet is the perfect place to send Ralph and Vanellope. The scope and scale are so vast and the possibilities for comedy are endless.
Moore had issued a similar statement:
The relationship between Vanellope and Ralph, we're going to see that again, and the comedy that comes with the two of them. We're going to see their friendship tested by getting to the Internet. So everything you loved about the first one and a whole lot more.
Other details remain unknown, but it was announced at CinemaCon that Jane Lynch's as Sergeant Calhoun will also return for the sequel.