'The Fate Of The Furious' Clip: Just Another Flaming Car Chase Through Havana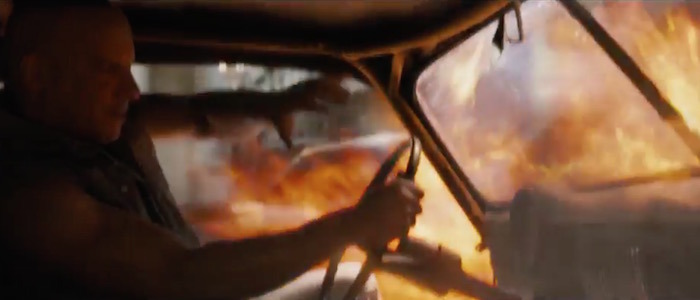 My favorite thing about the Fast and Furious series at this point is not how insane, outrageous and impossible the action sequences have become. My favorite thing about the Fast and Furious series at this point is how the characters tend to react to those insane, outrageous, and impossible action sequences – they are usually only a little perturbed and often barely react at all. This is just life, man. This is what you do between Coronas. This is what family is all about!
So as you watch this new The Fate of the Furious clip, feel free to concentrate on the nutty car chase. That's fine. But also slow down to appreciate how Vin Diesel is treating this sequence as if it's the most normal thing in the world. Movie magic.
We knew that portions of the eighth Fast and Furious film were shot in Havana, Cuba and this action scene gives us our first real taste of how director F. Gary Gray will utilize the city. In short: it's just another playground for destruction and mayhem and that's totally fine. This series has become a real globetrotter over the past few entries, so a fun and fresh background is welcome for Dominic Toretto casually pursuing a fleeing bad guy while his classic automobile is literally bursting into flames.
From the trailers, we know that The Fate of the Furious will eventually feature a massive car chase across ice with a giant submarine crashing the party, so this sequence looks pretty low-key in comparison. And yet, it's a testament to this series' increasing willingness to become a live-action soap opera cartoon (I mean that as high praise) that "low-key" means a flaming car careening through the streets of Havana.
What we don't know is whether or not this scene takes place before or after Dom betrays his family (cue live audience gasps), as explained in the official synopsis:
Now that Dom and Letty are on their honeymoon and Brian and Mia have retired from the game—and the rest of the crew has been exonerated—the globetrotting team has found a semblance of a normal life. But when a mysterious woman (Charlize Theron) seduces Dom into the world of crime he can't seem to escape and a betrayal of those closest to him, they will face trials that will test them as never before.
From the shores of Cuba and the streets of New York City to the icy plains off the arctic Barents Sea, our elite force will crisscross the globe to stop an anarchist from unleashing chaos on the world's stage...and to bring home the man who made them a family.
The Fate of the Furious opens on April 14, 2017.