'Star Wars: The Last Jedi' Will Not Be Altered Following Carrie Fisher's Death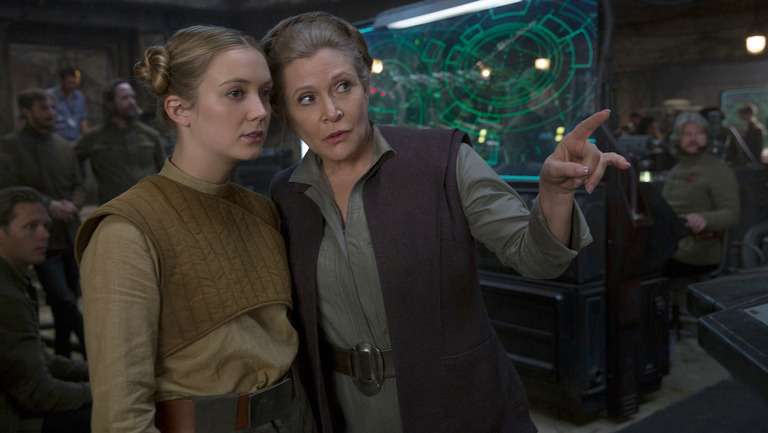 Last December, Hollywood was hit with the tragic news that Star Wars saga actress Carrie Fisher had passed away. She had already completed filming on Star Wars: The Last Jedi, but reports indicated that her character General Leia was meant to have an even bigger role in Star Wars: Episode IX. One of the options being discussed in order to fix this issue was making changes to General Leia's role in The Last Jedi to reduce the problem of her not being in Episode IX. But that apparently won't be necessary.
Disney CEO Bob Iger appeared today for a chat at the USC Marshall School of Business, and when conversation turned to Star Wars: The Last Jedi, he brought up the passing of Carrie Fisher and how it was being handled behind the scenes. 
It turns out Star Wars: The Last Jedi will not be altered following the death of Carrie Fisher. Here's what Bob Iger said during the USC discussion (via Periscope):
"We've had to deal with tragedy this past year because Carrie Fisher passed away tragically in December, and she appears throughout [Episode] 8. What I can say about that is she is in 8 and we're not changing 8 to deal with her passing. So her performance, which we're really pleased with, remains as it was in 8."
You might be wondering if director Rian Johnson and the crew at Industrial Light and Magic will have to use any visual effects wizardry to complete any sequences that involve Carrie Fisher. But Bob Iger thought some people might already be thinking of that as a possible solution, and he immediately put that to rest:
"In Rogue One, we created digitally a few characters, one an actor that had actually passed away but had been in an earlier Star Wars film. We're not doing that with Carrie, although technology gives the ability to do so many different things today."
So whatever footage Carrie Fisher had already completed for Star Wars: The Last Jedi was enough that they won't have to recreate Carrie Fisher digitally to complete her performance. Speaking of digital doubles of Carrie Fisher, some new photos from the set of Rogue One have emerged online featuring stand-in Ingvild Deila. Here they are:
Ingvild Deila recently spoke with The Hollywood Reporter about her secret role in Rogue One. Despite the fact that she only had one line and we don't hear her actual voice or see her actual face, she took great care with the performance. She says:
"When something is brief, it has to be spot-on, like when you only have one line. It just has to be right. So it was the smallest role I've ever had in terms of actual acting, but it was so laden with pressure. Because it was Leia, because it was the final shot of the film. It felt like a big responsibility. But I tried to push all of that aside and just imagine what it would be like if your spaceship is about to get boarded and you are in this really dire, high stakes situation but you have to keep your cool because you are in charge. I was just trying to picture myself herself in her shoes."
It has to be weird for Deila to talk about a role where only her body movement and presence was used on screen. As for Lucasfilm's decision to not recreate Carrie Fisher for Star Wars: Episode IX, Ingvild Deila agrees with their choice:
"I think that's a good decision, it would feel weird to bring her back now, at least for the continuation of the saga. For the anthology movies, I'm really looking forward to seeing the Han Solo movie, that's going to be awesome. I don't know if it would be okay to recreate a young Leia. She already agreed to this one, but then again this was just a cameo."
Bringing back Carrie Fisher in digital form for Star Wars: Episode IX would be unnecessary, so it's good to know that Lucasfilm has already made that decision. But it's surprising that no changes will be made to Star Wars: The Last Jedi in the wake of her passing. Frankly, I'm most interested in seeing how Star Wars continues without Leia if The Last Jedi isn't being modified at all. How will her absence be explained in Star Wars: Episode IX?