'Captain Underpants' Trailer: The Long-Running Book Series Flies To The Big Screen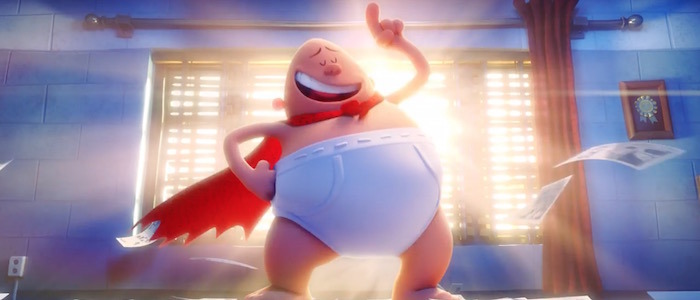 In today's edition of "Hey, do you want to feel old?", we bring you the first trailer for DreamWorks Animation's Captain Underpants: The First Epic Movie, the big screen adaptation of author and illustrator Dav Pilkey's long-running children's book series about a mean school principal hypnotized into thinking that he's a superhero by two mischievous students. While the series began in the late '90s, it's a real staple for those who came of age in the '00s...most of whom are now old enough to drive themselves to the theater for this movie.
You can check out the Captain Underpants trailer below.
Like most DreamWorks movies, Captain Underpants is loaded with recognizable names supplying the voices. Ed Helms is Principal Krupp, the authoritative school administrator tuned very ridiculous superhero. Kevin Hart and Thomas Middleditch voice George and Harold, the pranksters whose love of comic books and inexplicable skill with hypnosis turn Krupp into Captain Underpants. Nick Kroll and Kristen Schaal are also on hand in supporting roles.
Adapted by Nicholas Stoller and directed by Turbo's David Soren, Captain Underpants: The First Epic Movie deserves props for utilizing an animation style that's indicative of Pilkey's work. While it's still CG animation, it's less obsessed with realistic textures and intricate character models and more interested in goofy, colorful designs. As many animated movies compete to create images as realistic as possible, there's something charming about a movie unafraid to go a little more abstract.
With that said, Captain Underpants doesn't look like it's for me at this point. I admire that gonzo premise, but I have no affection for this world or these characters. But that's fine! Because this movie wasn't made for me. It's for the people who have been reading these books for the past 20 years. 12 of them have been published since 1997, so there's definitely a built-in fanbase of kids and young adults with a love for Pilkey's world. I hope they like what they see.
Here's the official synopsis:
Based on the worldwide sensation and bestselling book series, and boasting an A-list cast of comedy superstars headed by Kevin Hart and Ed Helms, DreamWorks Animation brings audiences the long-awaited global movie event, Captain Underpants: The First Epic Movie. This raucously subversive comedy for the entire family tells the story of two overly imaginative pranksters named George and Harold, who hypnotize their principal into thinking he's a ridiculously enthusiastic, incredibly dimwitted superhero named Captain Underpants.
Captain Underpants: The First Epic Movie opens on June 2, 2017.