VOTD: Jeff Bridges Appears As ''The Dude'' For John Goodman's Walk Of Fame Ceremony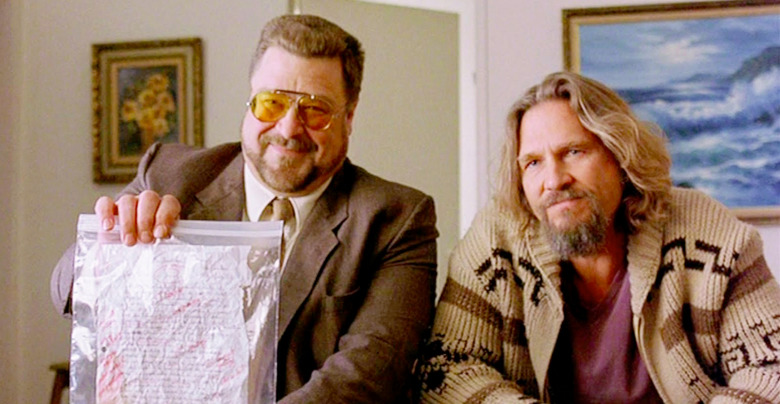 This past weekend, audiences were treated to a performance by John Goodman in Kong: Skull Island, and the movie went on to take the top spot at the box office. That's good news, but the Roseanne star's weekend got off to a great start before the numbers were in when he was given a place in the Hollywood Walk of Fame.
Joining a long list of Hollywood's finest, John Goodman now has a star on the famous Hollywood Walk of Fame, and the ceremony was made even more sweet because the man who was on hand to give him this glorious honor was none other than his The Big Lebowski co-star Jeff Bridges. But even better than just Jeff Bridges paying tribute to John Goodman is the fact that he did it in character as Jeffrey "The Dude" Lebowski.
Watch the John Goodman Walk of Fame ceremony with "The Dude" after the jump.
First, let's just acknowledge how great it is that Jeff Bridges give his tribute to John Goodman in character as "The Dude" (or His Dudeness, Duder, or El Duderino, if, you know, you're not into the whole brevity thing). Second, it's even more amazing that the speech given to honor John Goodman was an adaptation of the speech that his character Walter famously gave when scattering the ashes of Steve Buscemi's character Donny.
There's a lot of circle jerking that goes on in Hollywood, but it's great pleasing whenever good friends and talents like this get the chance to honor each other in fun ways. Goodman was clearly loving every minute of it, excited as soon as the signature sweater came out, and laughing throughout the entire speech.
Oh, and if you're looking for more John Goodman fun, this mini Roseanne reunion is rather amusing: