'American Gods' Is A Weird And Wonderful Start To A Promising Series [SXSW]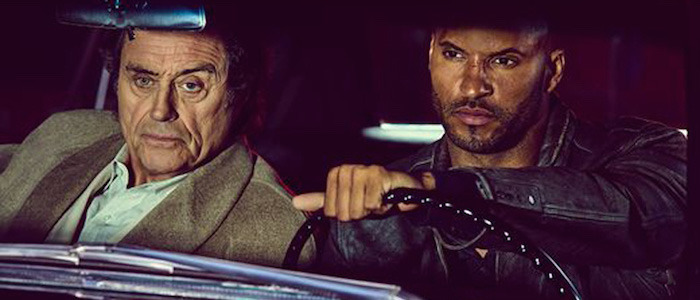 When we discuss the stunning and bizarre and frequently hilarious first hour of Starz's American Gods, we may very well be discussing your next television obsession. At the very least, Bryan Fuller and Michael Green's adaptation of Neil Gaiman's beloved novel has a stunning opening filled with astonishing images, bizarre characters, and evocative mysteries.
Like the novel itself, American Gods doesn't lay all of its cards on the table right away. But here's the basic gist of it: the "old gods" who arrived in America alongside immigrants and explorers and slaves who worshipped them, have lost most of their power. The "new gods," created from human worship of business, television, and the internet, reign supreme. The figures of ancient mythology wander America, yearning for lost glories. And a war may be brewing.
The seeds for that larger arc are planted in the pilot during a grisly and harrowing (and darkly funny) opening sequence, where the first Vikings to step foot on North American soil introduce the Norse gods to this new world. Shot with fourth-wall shattering aplomb (a severed limp doesn't care about your mortal aspect ratios!), it has the grandiose broadness of a tall tale, a legend where where the details have been stripped away in favor of bold strokes. It sets the right mood.
From there, American Gods slows down to introduce the actual driving narrative of the series. We meet Shadow Moon (Ricky Whittle), a convict released from prison a few days early when his wife (Emily Browning) is killed in a car crash. Soon, he encounters Mr. Wednesday (Ian McShane), a con artist and crook in need of some hired muscle. But Shadow is having unsettling dreams full of monsters and otherworldly imagery. And Mr. Wednesday is hiding something. Soon enough, Shadow learns that he's walked into the larger world lurking beneath America's surface.
While the bulk of the pilot focuses on Shadow's journey home and his first encounters with Mr. Wednesday, other characters are introduced as well. We have our first glimpse at Orlando Jones' Mr. Nancy, we meet the powerful and petulant Technical Boy (Bruce Langley), and spend a great deal of time with Mad Sweeney (Pablo Schreiber), an Irish brawler who claims to be a leprechaun. In the episode's best moment, one that will be the only thing anyone can talk about the day after this episode actually airs, we are introduced to Bilquis (Yetide Badaki), an ancient goddess with an...unusual lovemaking method.
Shadow is our tour guide through this madness and Whittle (previously a cast member on The 100) reveals himself to be leading man material. He looks like a bruiser, but his eyes radiate a continuous intelligence and sincerity. He's also the first indication that American Gods will remain true to the source material and embrace a diverse cast filled with people of color representing various background and heritages. The novel of American Gods is a tribute to the American melting pot and how the centuries have created a civilization composed of colors and beliefs spanning the entire world. And due to the times we are living in, this makes the series a potential political powder keg by default. It may be the fantasy series we need right now.
While Whittle is tasked with being the normal guy in this weird world, McShane is allowed to cut loose as Mr. Wednesday, stealing every scene with his trademark blend of menace and wit. It's a character with tremendous promise and the Deadwood veteran ensures that we want to go on every step of this journey alongside this guy while also not trusting him in the slightest. He's a hoot, supplying an emotionally raw hour with much-needed humor.
American Gods is also a beautifully made show, with director David Slade (who previously worked with Bryan Fuller on the late, great Hannibal) transforming traditional American landscapes into lands of mystery and dread. When the show does go full-on fantastical, the design choices make up for the obvious television budget. CGI monsters and landscapes don't need to be photorealistic if their designs are on-point.American Gods appears to do justice to Gaiman's work, expanding on his world while being faithful to what makes it work in the first place. Green and Fuller seem to have crafted something very special, perhaps even a series that can replace the dark fantasy hole in our hearts when Game of Thrones comes to an end. This could be something special. Let's hope.American Gods premieres on Starz on April 30, 2017.