'Guardians Of The Galaxy Vol. 2' Clip: Who Is The Greatest Pilot In The Universe?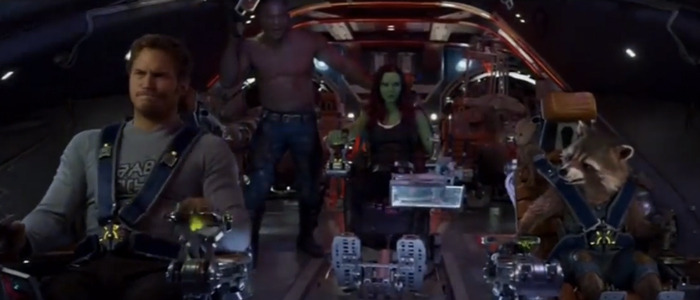 This past weekend, Nickelodeon had their annual Kids' Choice Awards, which meant it was a prime time for studios to advertise their latest blockbusters to the coveted younger demographic. The new footage unfurled included the newest trailer for Wonder Woman (which you can watch right here), as well as the first clip from Transformers: The Last Knight. But Marvel Studios also brought a treat for all of the kids who tuned in.
Guardians of the Galaxy Vol. 2 debuted another clip featuring everyone's favorite ragtag team of space criminals, and this time there's a bit of a disagreement between Star-Lord and Rocket Raccoon regarding who is the best pilot in the universe. The argument escalates to the point of one particularly gross threat that brings Drax the Destroyer into the fray.
Watch the Guardians of the Galaxy 2 clip after the jump.
The comedy in this particular scene feels a bit childish, but that's probably why it was chosen to play at the Kids' Choice Awards. Just recently another Guardians of the Galaxy 2 clip debuted featuring a bit of gross humor, but James Gunn already confirmed that it wouldn't be in the movie. However, I don't think that will be the cast with this clip since it has some finished visual effects for Rocket Raccoon, the ship's interface, and more.
Though the discussion about "turds" isn't the most clever of comedy, despite how enthusiastic Drax the Destroyer is about his own bowel movements, it doesn't have me worried about the quality of Guardians of the Galaxy Vol. 2. The first film had some goofy comedy as well, and even though the movie will undoubtedly be PG-13, that doesn't mean there won't be some stuff that's funny for the younger viewers. This is a Disney-owned franchise after all.
If you'd like to see more from Guardians of the Galaxy Vol. 2, check out the most recently released trailer, which finally introduced us to Kurt Russell as Star-Lord's father, Ego, the living planet.
Set to the backdrop of 'Awesome Mixtape #2,' Marvel's Guardians of the Galaxy Vol. 2 continues the team's adventures as they traverse the outer reaches of the cosmos. The Guardians must fight to keep their newfound family together as they unravel the mysteries of Peter Quill's true parentage. Old foes become new allies and fan-favorite characters from the classic comics will come to our heroes' aid as the Marvel cinematic universe continues to expand.
Guardians of the Galaxy Vol. 2 lands in theaters May 5.