'Wonder Woman' Trailer: Diana Prince Discovers Her Destiny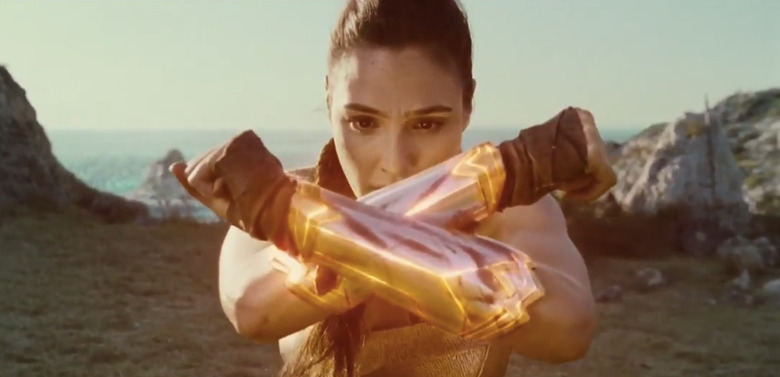 Gal Gadot effectively stole Batman v Superman: Dawn of Justice away from The Dark Knight and the Man of Steel when she debuted as Wonder Woman last year. But this summer, she won't have to vie for attention, because the super-powered Amazon warrior is finally getting her own movie.Wonder Woman begins in modern day, following the events of Batman v Superman, but when Diana Prince (Gal Gadot) receives a package from Bruce Wayne contianing the old photograph she was trying to recover from Lex Luthor, she's overwhelmed with the memories of her past. From there, we flashback to the early days of Diana's life and how she first became entangled with mankind. Now a new Wonder Woman trailer reveals more about the origins of the hero and the discovery of her destiny.
Following the outstanding footage from Wonder Woman we were shown at Warner Bros. post-production facility in London a couple weeks ago (you can read all about that right here), this trailer continues to inspire faith in the next installment of the DC Expanded Universe. Plus, there appears to be confirmation of our theory that Ares resides within Danny Huston's German military character, General Erich Ludendorff with a certain like that Gal Gadot says when announcing who she is.
As we heard from Patty Jenkins, this is a movie that she'd been developing on and off for roughly 10 years before being officially brought on as director. Perhaps that's why there's an authenticity to the proceedings, despite the fact that we're still dealing with a fantastical superhero who was created by the gods. You can just tell that a lot of care was taken with the character.
If you'd like a breakdown of the key players in this DC Comics origin story, we've compiled all of them in a post over here, complete with all the pertinent details we've learned about each of them. You can also learn about the events that unfold in the first act and lead to Diana Prince's emergence on the battlefield as Wonder Woman.
Wonder Woman arrives on June 2, 2017.
Wonder Woman" hits movie theaters around the world next summer when Gal Gadot returns as the title character in the epic action adventure from director Patty Jenkins. Before she was Wonder Woman, she was Diana, princess of the Amazons, trained to be an unconquerable warrior. Raised on a sheltered island paradise, when an American pilot crashes on their shores and tells of a massive conflict raging in the outside world, Diana leaves her home, convinced she can stop the threat. Fighting alongside man in a war to end all wars, Diana will discover her full powers...and her true destiny.
Joining Gadot in the international cast are Chris Pine, Connie Nielsen, Robin Wright, David Thewlis, Danny Huston, Elena Anaya, Ewen Bremner and Saïd Taghmaoui. Jenkins directs the film from a screenplay by Allan Heinberg and Geoff Johns, story by Zack Snyder & Allan Heinberg, based on characters from DC Entertainment. Wonder Woman was created by William Moulton Marston. The film is produced by Charles Roven, Zack Snyder, Deborah Snyder and Richard Suckle, with Rebecca Roven, Stephen Jones, Wesley Coller and Geoff Johns serving as executive producers. Warner Bros. Pictures presents, in association with RatPac-Dune Entertainment, an Atlas Entertainment/Cruel and Unusual production, "Wonder Woman."