Terry Gilliam's 'The Man Who Killed Don Quixote' Begins Production, Laughs In The Face Of God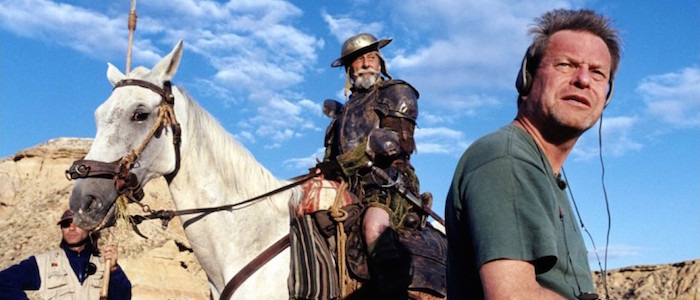 The Man Who Killed Don Quixote has apparently begun production and now I'm worried that a giant foot will come down from the sky and crush director Terry Gilliam, Monty Python-style. After all, the forces of nature have kept this project on the ropes for nearly two decades. This isn't even the first time cameras have rolled on the film! There's still a chance all finished footage could burn up in a fire. There's still a chance a freak sinkhole could swallow the entire crew. Anything can happen...but it's about time that the universe cut Gilliam some slack.
Let's run down everything we know where this famously ill-fated production stands at the moment, including its new leading man.
Over the past week or so, there have been rumblings that The Man Who Killed Don Quixote had finally found its footing again, specifically from the social media accounts of those working on the movie. IndieWire, citing a source close to the production, confirmed the rumors. Yes, it's shooting right now. And can you blame them for the quiet start? If they had made a big deal out of it, a tornado made of blood and broken glass could have come down from the sky and swept everyone on the set into a hellish abyss.
IndieWire also notes that the production has a new Don Quixote in Jonathan Pryce, the wonderful English actor who previously worked with Gilliam in The Adventures of Baren Munchausen, The Brothers Grimm, and Brazil (my all-time favorite movie). Adam Driver is still set to star as a modern day advertising executive who finds himself swept back in time and sent on adventure with Cervantes' legendary character, a madman who is convinced that he's a knight.
A Brief History of The Man Who Killed Don Quixote
For those of you who haven't been following this production's many mishaps over the years, here's the briefest possible summary.
Gilliam first began pre-production on The Man Who Killed Don Quixote in 1998 and filming started in 2000. A pre-Jack Sparrow Johnny Depp was the leading man, with Jean Rochefort playing Don Quixote. A few days into filming, a series of disasters (including sudden illness and a freak storm) stopped the production dead in its tracks. Everything was put on hiatus. Filming never resumed.
This was all chronicled in the astonishing documentary Lost in La Mancha, made by the crew hired to film the production for a future DVD special feature. It's an agonizing portrait of one of cinema's great artists being quickly undone by events that feel like they were torn out of one of his own absurd comedies.
Gilliam continued to work on The Man Who Killed Don Quixote over the years. Ewan McGregor replaced Johnny Depp. Jack O'Connell replaced Ewan McGregor. Adam Driver replaced Jack O'Connell. Meanwhile, Robert Duvall replaced Jean Rochefort. John Hurt replaced Robert Duvall. Michael Palin replaced John Hurt. Jonathan Pryce replaced Michael Palin. Gilliam spoke often of rewriting the screenplay to accommodate smaller and smaller budgets, working to find any way to make the movie.
Last year, it was announced that The Man Who Killed Don Quixote would film in September 2016. It was delayed in October. And now, here we are.
Terry Gilliam is one of cinema's great visionaries and a true genius. Let's hope that the past 19 years have allowed this interesting concept to marinate in his creative juices. Let's hope Gilliam has another masterpiece in him. Let's hope the movie gets finished.