Movie Magic: See How Zack Snyder Created That Aquaman Footage For 'Justice League'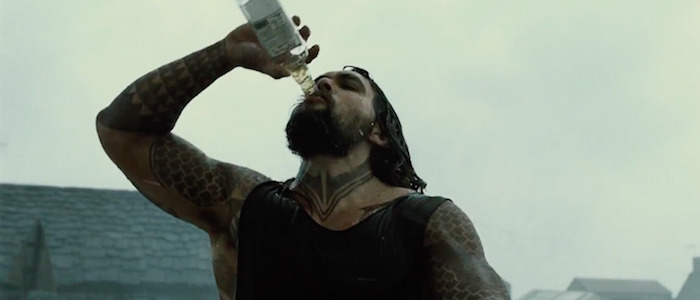 About a week ago, director Zack Snyder teased footage from Justice League, offering a tiny glimpse of Jason Momoa's Aquaman in action. Now, he's revealed a behind-the-scenes image showing off exactly how the created the illusion of a superhero effortlessly navigating an underwater environment. In case you missed it before, here's the blurry footage of Arthur Curry, the half-human heir to the throne of Atlantis and the hero tasked with defending the planet's oceans, gracefully gliding through the water: https://twitter.com/ZackSnyder/status/837091636010110976 Even in this brief glimpse, this is a significant improvement over his appearance in Batman v Superman: Dawn of Justice. In his brief cameo (which takes place when Wonder Woman pauses the climax of the movie to watch trailers for future DC projects), Aquaman is caught on camera by a submersible and Momoa is clearly sitting in a tank, holding his breath. Which is, you know, not a great look for a guy whose whole super-powered skill set includes being able to manipulate the ocean and command sea life and so on. https://www.youtube.com/watch?v=j-Rz4NSHGL0 Naturally, the best way to sell Aquaman as being graceful in the water would be to not use actual water at all. Enter the robotic arm seen in the image below, which was used to lift Momoa in front of a green screen and simulate graceful underwater movements that could not be accomplished in a real tank of water. As you can see, Momoa's hair is also tied up, so his billowing locks can be appropriately CGI'd later.
In case you were wondering how It's done.
A post shared by DC COMICS Extended Universe (@dcceuinverse) on
While there are days where I grow weary of so many movie magic questions being answered with "Computers did it," there's no denying that this is a clever solution to a weird problem. Since Justice League had to make use of some very specific technology to bring just one of the team's heroes to life, I look forward to additional behind-the-scenes glimpses at the rest of the cast, each of whom will surely required a unique touch of their own. Justice League is set to open on November 17, 2017. A trailer should arrive someday. Eventually. Here's the official synopsis:
Fueled by his restored faith in humanity and inspired by Superman's selfless act, Bruce Wayne enlists the help of his newfound ally, Diana Prince, to face an even greater enemy. Together, Batman and Wonder Woman work quickly to find and recruit a team of metahumans to stand against this newly awakened threat. But despite the formation of this unprecedented league of heroes — Batman, Wonder Woman, Aquaman, Cyborg and The Flash -— it may already be too late to save the planet from an assault of catastrophic proportions.