'Love Actually 2' First Look: Hugh Grant, Liam Neeson, Rowan Atkinson & More Are Back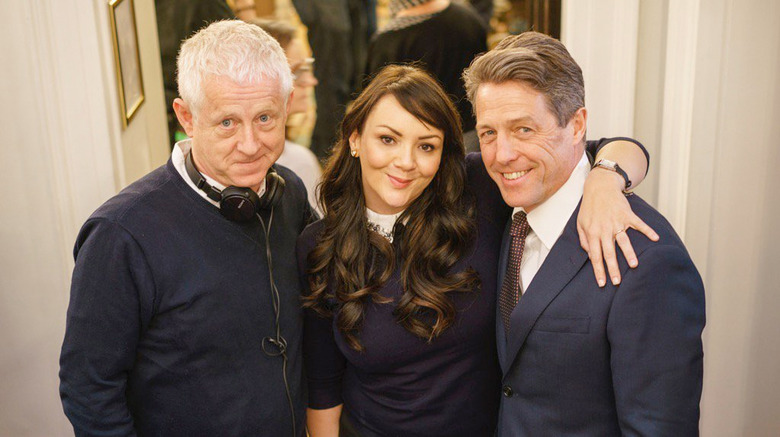 Last month, the day after Valentine's Day, we learned that the ensemble romantic comedy Love Actually was getting a sequel. Sort of. Instead of being a feature film reunion, the cast of the film from director Richard Curtis was reuniting for a short film in honor of the charitable initiative by Comic Relief known as Red Nose Day.
The Love Actually sequel is called Red Nose Day Actually, and the short is in production right now and will debut later this month on TV. For those who can't wait to get a glimpse of the sequel, Red Nose Day program director Emma Freud has been on set, and she's revealed out first look at the returning cast. There's Hugh Grant, who is still Prime Minister and still married to the lovely Martine McCutcheon, Liam Neeson and his much older son played by Thomas Brodie-Sangster, and Rowan Atkinson who is still taking his sweet time at the check out counter.
Check out the Love Actually 2 photos below.
Here are some shots of Grant, returning as the unnamed Prime Minister:
For those doing the math, if Hugh Grant is still Prime Minister after 14 years, that makes him the fourth longest serving Prime Minister in history, and easily the best dancer of them all. Clearly, he's still with McCutcheon's Natalie, who I've always had a bit of a crush on since I first saw Love Actually all those years ago.
Then there's Neeson's Daniel, sharing a riverside moment with his son, Sam:
Yes, enough time has passed for Thomas Brodie-Sangster to be a full fledged grown up, but you already knew that if you've seen The Maze Runner or Game of Thrones.
Finally, we have Rowan Atkinson working another register, presumably still taking his sweet time:
This one is a little bittersweet, since Atkinson famously shared that hilariously frustrating gift-wrapping scene with the late Alan Rickman. Emma Thompson chose not to come back for this short out of respect for Alan Rickman since they couldn't properly continue their characters' storyline without his presence.
According to Emma Freud's Twitter, today is the last day of production, so if there are any more photos that end up online, we'll post them here. There are some characters who are staying under wraps, though she seems to have hinted at the wardrobe of one particular character:
Guess who? #rednosedayactually pic.twitter.com/bYrcjROsWZ

— emma freud 💙 🔴 (@emmafreud) March 4, 2017
I'm almost certain those shoes have to belong to rock star Billy Mack (Bill Nighy), but we'll have to wait and see.
Other returning cast members include Keira Knightley, Colin Firth, Bill Nighy, Andrew Lincoln, Lucia Moniz, Olivia Olson and Marcus Brigstocke. Even though he wasn't part of the cast list when the project was announced, Chiwetel Ejiofor can be seen taking photos with Andrew Lincoln, so maybe he ended up getting involved after all:
Brothers in arms. And noses. Everyone on the #rednosedayactually SO happy these guys are here tonight. Esp me. pic.twitter.com/BkR2ZMrG66

— emma freud 💙 🔴 (@emmafreud) March 7, 2017
Though Richard Curtis (who is one of the founders of Comic Relief) is back as director, he has recruited Mat Whitecross as co-director this time. We'll get to see what they've cooked up for us when the short debuts as part of the Red Nose Day program on BBC1 on March 24, 2017. The US version of Red Nose Day doesn't happen until May 25, so we're not sure if we'll have to wait two more months to see it. As soon as the short is available, we'll be posting it.