Watch The 'Beauty And The Beast' Music Video With Ariana Grande & John Legend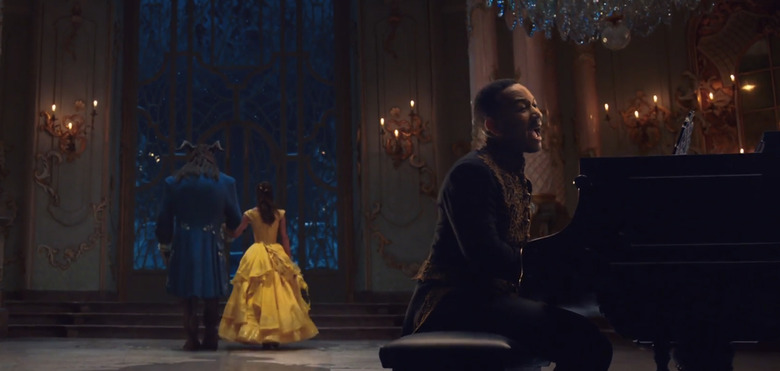 You've already heard the cover of the iconic theme song from Beauty and the Beast that has been updated with the voices of chart-topping singers Ariana Grande and John Legend. Now see the singers bring the song to life in a new music video featuring appearances by Emma Watson as Belle and Dan Stevens as the Beast. Plus, you just might some some of the transformed castle residents pop up too.
Watch the Beauty and the Beast music video after the jump.
This is pretty standard music video fare, though the production quality is through the roof. Clearly they used digital elements from Beauty and the Beast for the music video to incorporate John Legend and Ariana Grande into the film's environments, but it's done pretty flawlessly.
Meanwhile, there's a pretty little choreographed dance number that forms a rose, complete with Ariana Grande's dress that looks like it's in the middle of exploding. But I don't know squat about fashion, so don't mind me.
For those looking for a point of comparison, check out original music video from 1991:
That's Peabo Bryson and Celine Dion, the latter of whom performs an all new song called "How Does a Moment Last Forever" on the new Beauty and the Beast soundtrack that will be available on March 10. But before you go out and buy it, you might want to see the movie first, which won't hit theaters until March 17, though there's already some early buzz from press screenings making the rounds online for you to check out.