Turner Classic Movies Film Historian Robert Osborne Has Died At 84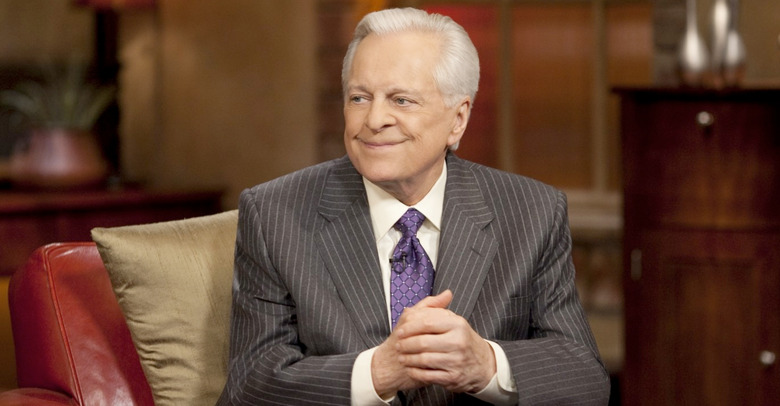 You'd be hard-pressed to find someone who loved movies as much as Robert Osborne, the primetime host of Turner Classic Movies ever since the cable network launched back in 1994. Sadly, Osborne has gone to that great movie theater in the sky as the television host and former actor has passed away at 84.
Below, we remember Robert Osborne's dedication to cinema and some career milestones you may not have known about.
Today we say good-bye to a dear member of our TCM family. Our thoughts are with all who love, as we do, Robert Osborne. #TCMRemembers pic.twitter.com/egWsPRGnJb

— TCM (@tcm) March 6, 2017
News of Robert Osborne dead was announced by Turner Classic Movies with an official statement from general manager Jennifer Dorian:
"All of us at Turner Classic Movies are deeply saddened by the death of Robert Osborne. Robert was a beloved member of the Turner family for more than 23 years. He joined us as an expert on classic film and grew to be our cherished colleague and esteemed ambassador for TCM. Robert was embraced by devoted fans who saw him as a trusted expert and friend. His calming presence, gentlemanly style, encyclopedic knowledge of film history, fervent support for film preservation and highly personal interviewing style all combined to make him a truly world-class host. Robert's contributions were fundamental in shaping TCM into what it is today and we owe him a debt of gratitude that can never be repaid. Our thoughts and prayers are with his family and friends at this time."
Before Robert Osborne became the face of Turner Classic Movies, he followed his passion for entertainment from Washington to Hollywood where he worked as an actor who was on contract to Lucille Ball and Desi Arnaz's Desilu production banner. In addition to appearing on the stage show The Desilu Revue, Osborne made appearances on The Beverly Hillbillies and One Step Beyond, not to mentioned uncredited appearances in Psycho and Spartacus. Eventually he would appear as in himself in an episode of The Unbreakable Kimmy Schmidt, in addition to spoofing himself in an episode of Adult Swim's Harvey Birdman, Attorney at Law that was called "Turner Classic Birdman."
Outside of his brush with acting, Osborne found his true calling my sharing his love for film and entertainment with others. He was on staff with The Hollywood Reporter in 1977 and had his own column over there from 1982 through 2009. In 1986 he would start to settle into a comfortable career path as a host on The Movie Channel, introducing films from 1986 through 1993, right up until he started his turn at TCM.
As time went on, TCM became the only channel who kept hosts around to introduce the movies they were about to show. In addition, he became a staple of the network even more with the "Essentials" series of films, which saw him introducing movies alongside the likes of Carrie Fisher, Alec Baldwin and Drew Barrymore. In case there was any doubt that Robert Osborne was known for his work on TCM, Saturday Night Live even spoofed the "Essentials" series with Jason Sudeikis playing Osborne.
Outside of hosting duties on TCM, Osborne also hosted the network's TCM Classic Film Festival from 1010 through 2014 and he was the official greeter on the red carpet for the Academy Awards from 2006 to 2010.
In recent years, Osborne had to take medical leave, but would return to TCM with a smaller set of responsibilities, leaving Ben Mankiewicz to take over some of his on-air duties. Mankiewicz penned his own tribute to Osborne over at The Hollywood Reporter if you want to read it.