'Star Wars Rebels' Renewed For Season 4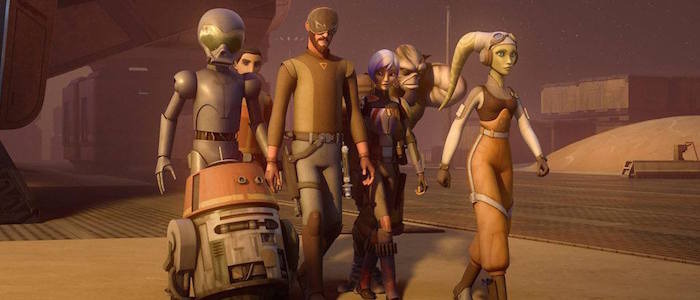 According the internet rumor mill, which is always entertaining if often unreliable, Star Wars Rebels was probably going to end after season 3, with a new animated series taking its place. And now, we can safely file that rumor away with the rest of the rejects because the popular Disney XD series has been renewed for a fourth season.
No premiere date has been set yet, but StarWars.com says that Star Wars Rebels season 4 will premiere this Fall. If the season 3 finale is anything like the season 2 homestretch, this is going to be a very long summer for fans.
Here's the official boilerplate statement from Marc Buhaj, senior vice president, programming and general manager of Disney XD:
The team behind Star Wars Rebels delivers epic storytelling that has captivated fans of all ages across the globe. We're excited to continue sharing the journey of these fan-favorite rebels with our audience in the fall.
Honestly, I'd be more surprised if Star Wars Rebels didn't get renewed. The series well-liked by young and old Star Wars fans, it's consistently entertaining, and it offers those steering Star Wars saga a way of introducing new faces and re-introducing old friends we haven't seen in some time. It has the power to make beloved "legends" canon again. It can break hearts. It's a win-win for just about everybody.
Although Rebels is continuing to truck on, series showrunner Dave Filoni recently told ComicBook.com that the series is marching toward a definitive conclusion – they're just not sure how long it will take to get there and what other diversions they'll encounter along the way:
From the very beginning, [executive producer Simon Kinberg] and I, working with the writers and story group have had a goal in mind of where we would like to get to with this, and we've been taking steps towards it along the way, and some surprising twists and turns even to us, but we always have a goal in mind of where we want to be. So, I think we have taken some strong steps towards that with always an eye on 'Does the adventure continue?' So we'll have to see. For Sabine, hopefully the adventure will continue. That would be great because then we can change her hair again. People love that.
While the wait for Star Wars Rebels season 4 will undoubtedly be long, just note that it won't be as long as the wait for Star Wars: The Last Jedi, which opens in December.