'Popstar: Never Stop Never Stopping' Wins Best Picture...at The All Def Movie Awards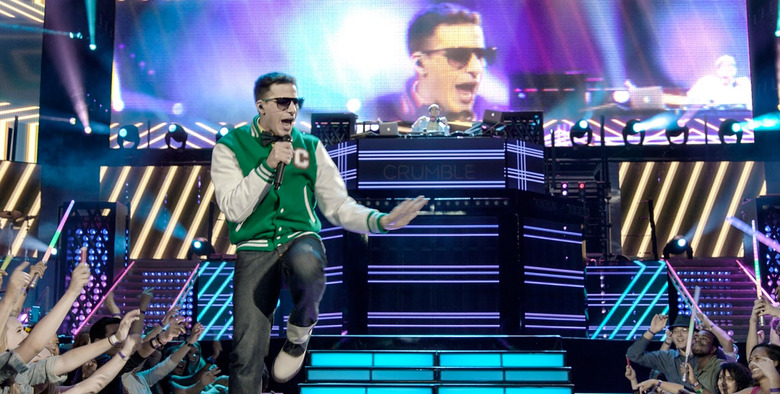 Over the weekend, the 2017 Independent Spirit Awards and the 89th cademy Awards both honored Moonlight with the top honors for the Best Picture of 2016. It's amazing that director Barry Jenkins had his movie recognized for being the stellar piece of cinema that it is. But we need to talk about another Best Picture winner that was seen perhaps even less than the indie Moonlight.
Popstar: Never Stop Never Stopping was a box office bomb last summer, doing so poorly at the summer box office that it couldn't even break $10 million. That's a real shame, because it's the best comedy of the year, and it's one of those movies that people would love if they  just gave it a chance. Thankfully, at least one organization decided give Popstar the respect it deserved. Russell Simmons' second annual All Def Movie Awards gave Popstar the honor of Best Picture.
Find out more after the jump.
The fact that Popstar wins Best Picture at the All Def Movie Awards is a little surprising if only because the event itself was created in the wake of last year's #OscarSoWhite controversy where a lack of color in the nominee list sparked some outrage. Therefore, giving the All Def Movie Award for Best Picture to three white dudes (Andy Samberg, Akiva Shaffer and Jorma Taccone) who do joke raps seems counterproductive to why the awards show was started to begin with. But Popstar is so incredible, it just makes sense. It's just a shame that the movie didn't land a nomination for Best Original Song at the Oscars.
Other awards handed out at the All Def Movie Awards include Most Out of Place White Person, Best Latino Not in a Service Industry Role and Best Performance by an Asian Not Asked to Use an Accent. You can see who won all of those awards and more over at The Hollywood Reporter.