'The Predator' Director Shane Black Reveals The Tough, Surely Doomed Cast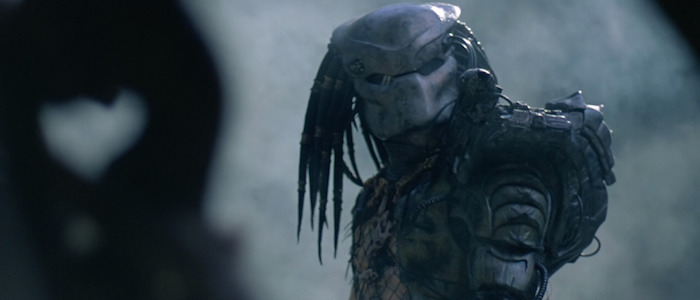 The original 1987 Predator is one of those movies that I can't stop watching once I see a frame of it. If John McTiernan's action/horror/science fiction classic is on a screen near me, I will be drawn into its gravitational pull. There's a special power in how it builds an atmosphere of macho excess before quickly nicking the whole thing, taking deranged pleasure in watching an ensemble of tough guys get completely obliterated for by an alien for two hours.
So while the Predator itself is important in a Predator movie, its victims are even more important. So when director Shane Black (of The Nice Guys and Iron Man 3 fame) reveals the cast of the latest sequel, we should take note. Are we going to like these people enough to watch them get blown to pieces by an extraterrestrial menace that sees them as nothing more than trophies to be mounted on a spaceship wall?
We've been closely following The Predator as Black has assembled his cast, noting his good taste and his canny ability to grab actors who feel like they're about to blow up at any given moment. Cameras started rolling on the film today and Black shared a picture of his cast on Twitter, all in-character, all looking very tough, and all looking very ready to get turned into gory mincemeat.
Partial cast... beautiful human beings, good people. Also, killers. Cameras roll today. Follow me on Twitter for updates. Wish us luck. pic.twitter.com/vYGgGesW0Y

— Shane Black (@BonafideBlack) February 20, 2017
Rather than go left to right, how about we run down these people from "most likely to get killed horribly by a Predator" to "least likely to get killed horribly by a Predator"?
First up is Sterling K. Brown (far left), who won an Emmy for his incredible work in American Crime Story: The People v. O.J. Simpson and is currently starring on the acclaimed series This is Us. He's an incredible actor and he feels like he's on the verge of serious stardom and he looks like the only person in the line-up who doesn't know he's about to walk into a war zone.
Next up is Trevante Rhodes (second from left), whose remarkable work in last year's Moonlight helped an unforgettable movie land a potentially tricky final act. He looks awfully tough here (and he's armed!), but let's face facts: this is probably a case of a wonderful leading man emerging from the indie world so he can die horribly in a Hollywood blockbuster.
And that brings us to Keegan-Michael Key (far right), the versatile actor best known for his brilliant work as one-half of Key & Peele. He's also a fine dramatic actor, having showcased his chops in last year's underrated Don't Think Twice. Unlike Brown, he's armed with a gun and dressed for combat, but the fact that he's a possible comedic presence suggests that he'll die to prove that the Predator means business.
In the middle of the photo is Boyd Holbrook, the star of Netflix's Narcos who will soon be introduced to millions of people as the villain in Logan. He's technically the lead here, so his odds of not getting horribly killed by a Predator are awfully high...but he's also a father and you know that movies like this love to kill off fathers so they can prove to their sons that they're true heroes and so on.
Right next to Holbrook is Olivia Munn, last seen in X-Men: Apocalypse. She looks ready for the situation at hand and she benefits from being the sole woman in the line-up – she's not going to make any moves based on testosterone-fueled idiocy. She'll live.
However, only one person in this picture will actually survive the film for sure and that is Jacob Tremblay. Not because he's an adorable child actor (and so very good in Room), but because he's the only one in the line-up who could actually crush a Predator's head with his bare hands in real life and to depict him as a victim would be thoroughly unrealistic.
The Predator is set for release on February 9, 2018.