'Avatar' Land Trailers Tease Disney Theme Park Riffs On James Cameron's Film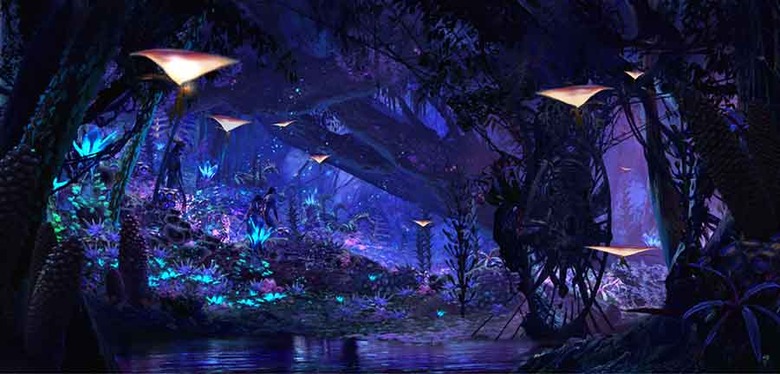 We've written before about the ongoing theme park cold war between Disney and Universal Studios, both of whom are battling it out to become the top dog in this industry. Universal took the high ground when it debuted the Wizarding World of Harry Potter, but Disney is returning fire with a James Cameron-powered salvo: Pandora: The World of Avatar, which takes the highest grossing film in cinematic history and makes it a physical space you can explore. Honestly, there are no real losers in this conflict: both companies are forced to innovate (we have Star Wars and Nintendo-themed attractions on the horizon next) and we, those who enjoy theme parks, get to reap the rewards.
Even though Pandora is only a few months away from officially opening its gates (and will probably begin soft opening sooner than that), the area's two main rides remain pretty mysterious. Do two new trailers reveal anything noteworthy?
Kind of. Sort of. Maybe. It's not clear how much of the imagery in either of these previews comes from the actual attractions and how much of it was created specifically for marketing purposes, but at least it's something to tide us over until we learn more.
Let's start with a look at the Na'vi River Journey, a boat ride that will take you through the bioluminescent forests of Pandora on a boat and past some seriously impressive audio-animatronics:
While Disney will surely be hyping the new technology that was created to bring this ride to life and while it will undoubtedly look incredible, I want to point you toward the official description of the Na'vi River Journey for a moment:
Climb aboard a reed boat and soon you'll see that on the sacred Kaspavan River, every moment tells a story, and every bend sings a song. This expedition into the rainforest deep within the Valley of Mo'ara will take you right into the middle of Pandora and Na'vi culture. Traveling into the darkest part of the forest, you'll find yourself surrounded by a canopy of exotic glowing plants and amazing animals on the move. Listen closely and you'll hear the Na'vi Shaman of Songs as she fills the forest with beautiful music about the sacred bond between nature and ourselves.
Did you catch it? Despite all of the new tech on display, Na'vi River Journey is really just a refreshed version of a familiar and beloved Disney theme park template: everyone gets in a boat and travels past a series of scenes while catchy music provides the experience with a unique soundtrack. For all of the fanciness involved, this is the latest iteration of It's a Small World and Pirates of the Caribbean. And there's nothing wrong with that! As a theme park fan, it leaves me tickled.
Of course, Na'vi River Journey already feels like it's living in the shadow of Flight of Passage, an "E-ticket" simulator ride that lets you literally climb on the back of an animatronic banshee and fly over Pandora:
Insane ride vehicle or not, Flight of Passage is also an iteration on another Disney classic. This feels like next-generation Soarin', taking the beloved hang-glider simulator and giving it a science fiction twist. Heck, the official description's focus on observing scenery sells the comparison even further:
In this expedition, you'll experience the vast natural world of Pandora in all of its glory—from the air, on the back of a mountain banshee. This winged predator is one of the most important and culturally significant animals to the Na'vi. Flying on a banshee is an important rite-of-passage for the Na'vi and now, you will get the chance to test yourself. Soaring through ancient stone arches, under floating mountains and over the lush landscape, this expedition is an experience like no other.
Pandora: The World of Avatar is set to open at Walt Disney World's Animal Kingdom park on May 27, 2017 and we'll surely have more coverage going forward. And because the cold war must go on, Universal has recently set the opening date of their ambitious new water theme park Volcano Bay for May 25, 2017.