'Sandy Wexler' Trailer: Adam Sandler Brings A Goofy Voice And Plenty Of Famous Faces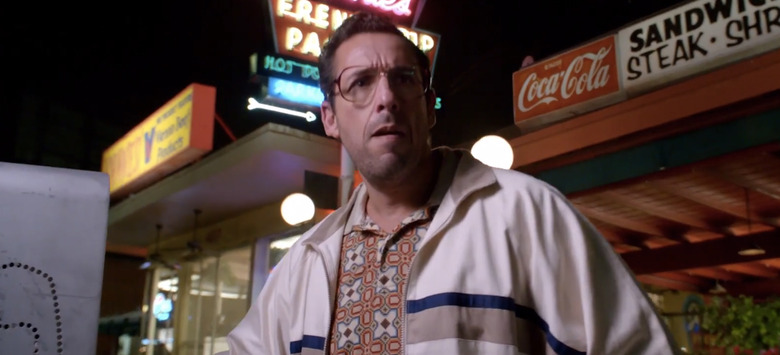 Continuing his feature film deal with Netflix, this spring brings another comedy from Adam Sandler, and this time he's taking us all the way back to 1994.
Sandy Wexler follows Adam Sandler as a goober of a talent agent, complete with one of those silly voices that he loves to have in his movies. While Sandy has a unique array of talents that he represents, his newest client Courtney Clarke (Jennifer Hudson) may not only prove to be his most successful, but he also happens to fall in love with her. If that doesn't sound appealing, just tune in for a bunch of cameos from Sandler's famous friends.
Watch the Sandy Wexler trailer after the jump.
The full trailer reveals a piece of the movie that the first teaser trailer didn't reveal, and that's a faux documentary element. It appears there is some kind of gala honoring Sandy Wexler, and a bunch of famous comedians and other celebrities have been brought in to pay tribute to him, or more accurately, talk about how weird the guy is. They include Chris Rock, Dana Carvey, David Spade, Pauly Shore, Richard Lewis, Paul Rodriguez, Conan O'Brien, Penn Jillette, Vanilla Ice, Darius Rucker and even Judd Apatow making a rare appearance, all talking about Sandy Wexler.
Otherwise, with the story side of the movie, we see Kevin James as some kind of ventriloquist, Colin Quinn as a fictional comedian, Lamorne Morris as a record producer and Nick Swardson and Terry Crews as a couple of Wexler's odd clients. Other cameos included in the movie will be Rob Schneider, Jane Seymour, Aaron Neville and Arsenio Hall (who I believe may be seen in the trailer, though his face isn't shown).
At the very least, it seems like the setting and cavalcade of talent on board this particular comedy might make it a little more tolerable than usual. But Adam Sandler has always had a bunch of recognizable faces in recent years, and they haven't really helped make his movies any better, so I'm not hoping for much.
Sandy Wexler is a talent manager working in Los Angeles in the 1990s who diligently represents a group of eccentric clients on the fringes of show business.  His single-minded devotion is put to the test when he falls in love with his newest client, Courtney Clarke, a tremendously talented singer who he discovers at an amusement park.
Sandy Wexler hits Netflix on April 14.