'Black Panther' Concept Art: Welcome To The Jungle (And Wakanda)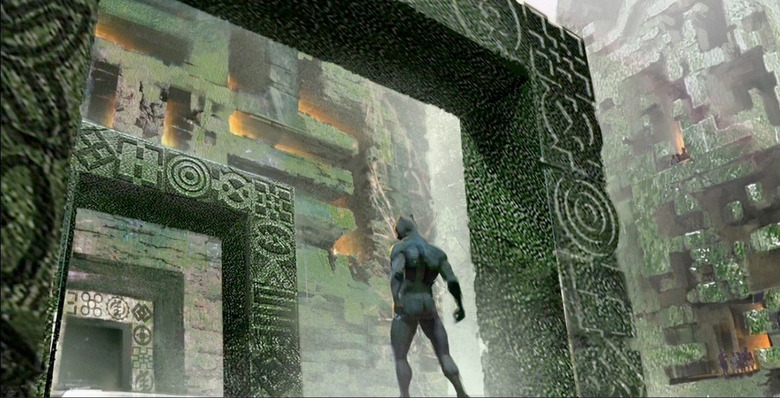 We've still got a full year until Black Panther hits theaters, but production is underway on the first solo outing for the African superhero who was added to the Marvel Cinematic Universe in Captain America: Civil War. While the first official stills haven't been unveiled just yet, a sneak peek at what we might see from the movie has arrived in the form of concept art.
The home video release of Doctor Strange has a sneak peek at the movies coming down the line in Phase 3 of the Marvel Cinematic Universe, and that includes Chadwick Boseman's franchise starter. The Black Panther concept art gives us a much better look at T'Challa's homeland known as Wakanda, both the jungle and the sleek city.
Here are the new Black Panther concept art images from the Doctor Strange home video release:
As you can see, Wakanda is unlike any place we've seen in the Marvel Cinematic Universe before. It meshes the rich architecture of Wakanda's history with slick, modern technology. It appears they've even protected some of the more historical parts of the city with transparent structures that allow people to see them but not walk through them.
In addition to the Wakandan skyline, we also get a look at what appears to be some kind of governing council room, likely where Wakanda's tribal elders (known as Taifa Ngao) will convene. Plus, there's some kind of quarry with glowing water, looking more like a scene out of Avatar. Is there a chance that the flowing liquid isn't electric blue, but maybe just shimmering liquid vibranium?
Otherwise, one of the more interesting images features Black Panther standing at an archway that appears to be part of some kind of 3D maze. Perhaps comic book readers will have a better guess as to what that location might be, because I have no idea.
Sadly, the concept art doesn't show off any of our supporting characters who will be played by Michael B. Jordan, Lupita Nyong'o, Danai Gurira, Daniel Kaluuya, Angela Bassett or Forest Whitaker. There's no glimpse of the return of Andy Serkis or Martin Freeman either, but we know they'll both be back. in their respective roles.
Ryan Coogler is directing Black Panther, and as someone who loved Creed and Fruitvale Station, I'm thoroughly excited to see what he can do with a Marvel superhero.
Black Panther follows T'Challa, who, after the events of Captain America: Civil War, returns home to the isolated, technologically-advanced African nation of Wakanda to take his place as King. However, when an old enemy reappears on the radar, T'Challa's mettle as King and Black Panther is tested when he is drawn into a conflict that puts the entire fate of Wakanda and the world at risk
Black Panther arrives on February 16, 2018.