A 'Hamilton' Movie Will Get Made Someday Because You'll Never Be Satisfied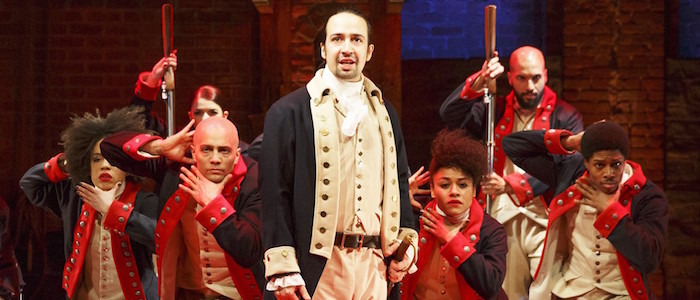 Broadway's Hamilton has been nothing short of a sensation and getting your hands on tickets involves perfect timing, a lot of luck, a check with too many numbers, or sacrificing your firstborn child. And for good reason! Surely you've listened to this slice of musical magic?? I have. Too many times. Maybe a hundred times. It's the only hip-hop musical about the life of the United States of America's first treasury secretary you will ever need!
Now, playwright/star Lin-Manuel Miranda is saying that a movie version will happen. Eventually. At some point. But just you wait, just you wait...
This tidbit of news comes our way from The Hollywood Reporter's Awards Chatter podcast (via the AV Club). Miranda was on hand to talk about his his work on Disney's Moana, which earned him, Opetaia Foa'i, and Mark Mancina a well-deserved Academy Award nomination for Best Original Song, but he had this to say when asked about a potential Hamilton movie:
Yes! Who knows when? I don't think I'm done with that role, by any stretch.
Since Hamilton is still packing houses in New York City and has only just begun to tour, we can probably expect that "when" to be quite some time from now. After all, no one in their right mind is going to produce a Hamilton movie until the stage production has generated as much revenue as humanly possible. That's just smart business. At any rate, it'll take long enough that Miranda will probably cede the role of Alexander Hamilton another actor – a 36-year-old can play that character from age 17 through 49 on stage, but that will be a tough sell on film. Miranda has previously joked that it would take 20 years to get made and that sounds about right.
But don't weep for Miranda. He's too busy wearing clothing made of the excess money he's earned from Hamilton. And starring alongside Emily Blunt in Mary Poppins Returns. And overseeing a film adaptation of his first Broadway hit, In the Heights. And polishing his Tony, Grammy, Emmy, and Pulitzer Prize. And preparing to have his EGOT blocked by La La Land in a few weeks.
So let's go ahead and wonder about the film version of Hamilton that will hit theaters in 2037 (should the world still exist). How do you adapt a sung-through hip-hop riff on early American history into a movie? With great care and consideration, I'd imagine.