LOL: 'Doctor Strange' Gag Reel Has Benedict Cumberbatch Bust A Move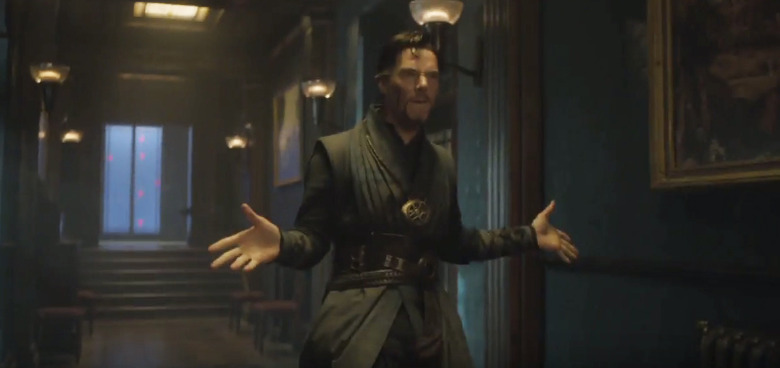 We may receive a commission on purchases made from links.
Tomorrow, Marvel's Doctor Strange will be available to download on Digital HD if you can't wait for the Blu-ray and DVD to hit shelves in a couple weeks. The home video release will be chock full of bonus features, and one of the most entertaining bits on from all the extras is always the gag reel. There's just something hilarious about seeing Earth's mightiest heroes flub their lines, take a misstep, drop their weapons or dance like total goofballs. And the Doctor Strange gag reel is no exception, especially when it comes to Benedict Cumberbatch showing off some dance moves in the Sanctum Sanctorum.
Check out a preview of the Doctor Strange gag reel after the jump.
Keep in mind that this is just a sneak peek at the entire gag reel that will be available when you purchase Doctor Strange on home video this month. If you haven't heard, you'll also get all these special features:
A Strange Transformation – Open your eye to a new dimension of the Marvel Cinematic Universe, and see how the filmmakers brought one of comic books' greatest characters to life.
Strange Company – Find out what it's like for the cast to work on a Marvel film, and how Director Scott Derrickson engineered one of the most ambitious, imaginative films ever.The Fabric of Reality – Take a closer look at the movie's extraordinary sets, meticulously crafted costumes and amazingly detailed production elements.Across Time and Space – Explore the countless hours of dance and fight choreography the actors endured in preparation for their physically demanding roles.The Score-cerer Supreme – Join Composer Michael Giacchino and a full orchestra during live recording sessions, and experience the movie's mind-bending music.Marvel Studios Phase 3 Exclusive Look – Get an early peek at Marvel's spectacular upcoming films, including Marvel Studios' "Guardians of the Galaxy Vol. 2," "Thor: Ragnarok," "Black Panther" and "Avengers: Infinity War."Team Thor: Part 2 – See more of the hilarious partnership between Thor and his roommate Darryl in this satirical short.Deleted Scenes
Strange Meets Daniel Drumm
Kaecilius Searches for Answers
The Kamar-Taj Courtyard
Making Contact
Lost in Kathmandu
Gag ReelAudio Commentary by Director Scott DerricksonDoctor Strange hits Digital HD on February 14 and Blu-Ray and DVD on February 28.