'The LEGO Batman Movie' Theme Song Touts The Sickest Backflips & Buns Of Steel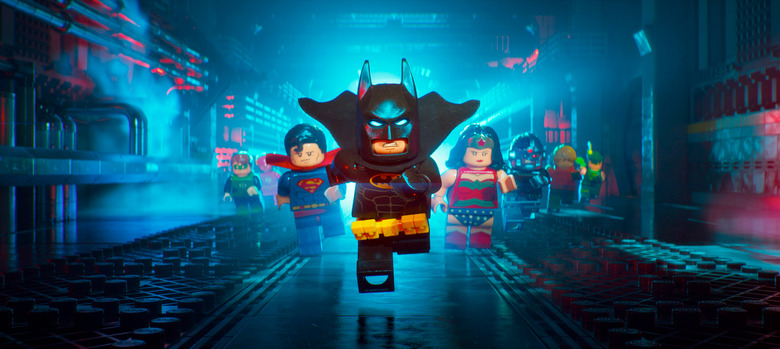 When the new theme song for last summer's Ghostbusters reboot by Fall Out Boy arrived online, a lot of people hated it. Therefore, some might be leery to hear that Fall Out Boy lead singer Patrick Stump has a track on The LEGO Batman Movie soundtrack that is essentially a theme song for The Brick Knight. But I'm happy to tell you that this song is hilarious, perfect and just plain awesome.
The LEGO Batman Movie theme song can be found on the official soundtrack, which is currently available to stream on Spotify. Don't worry if you don't have Spotify or you're not willing to shell out the money for the album yet, because the track has been made legally available on YouTube as well.
Here's The LEGO Batman Movie theme sng "Who's the (Bat)Man" by Patrick Stump:
Here are some of my favorite lyrics from the song:
Who has the coolest gadgets? (Batman!)
Who has the tricked out ride? (Batman!)
Who does the sickest backflips? (Batman!)
Na Na Na Na Na
Who's the manleist man? (Batman!)
With buns of steel? (Batman!)
Who could choke hold a bear? (Batman!)
Na Na Na Na Na
Who never skips leg day? (Batman!)
Who always pays their taxes? (Batman!)
What's pretty impressive is the voice that Patrick Stump puts on to imitate Will Arnett as LEGO Batman. It makes me wonder why they just didn't have Will Arnett do the song to begin with, since he already had that dark, brooding rock song from The LEGO Movie soundtrack back in 2014. Perhaps this song actually exists in the universe of The LEGO Batman Movie and the superhero himself had it created in his honor? That sounds like something LEGO Batman would do.
The way Patrick Stump incorporated the classic Batman theme into the song is a nice touch too, and there's a good chance this will be one of those songs that the kids want to hear over and over again. However, there's one more track that's rather catchy, which actually features the voice of Will Arnett, that may give it a run for its money. Here it is:
"Friends Are Family" by Oh, Hush! featuring Jeff Lewis is certainly a lighter pop song that could rival "Everything Is Awesome" for the song that starts to drives parents crazy. It also sounds like the song that plays when Batman realizes that maybe being alone isn't all its cracked up to be.
Next week we'll get to hear these songs in The LEGO Batman Movie when it hits theaters on February 10.