HBO Developing A Film About The Making Of 'The Godfather'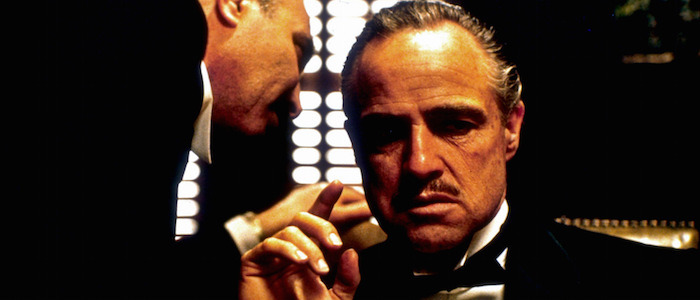 Just about everyone with a shred of decency and a little bit of good taste agrees that The Godfather is one of the greatest movies of all time. But does that mean everyone with a shred of decency and a little bit of good taste will be interested in a new film about the making of Francis Ford Coppola's 1972 gangster classic? HBO Films is betting yes, because they're currently developing Francis & the Godfather, a feature film that chronicles the behind-the-scenes headbutting that occurred during the film's development and production.
Variety has the news, including the detail that Andrew Farotte's screenplay originally appeared on the 2015 "Black List" of the best unproduced screenplays floating around Hollywood. Mike Marcus, Doug Mankoff, and Andrew Spaulding are set to serve as executive producers on the film while Peter Bart, who was the Paramount executive who first optioned Mario Puzo's mafia novel, will serve as a consultant.
It's note clear if there's a chief central hook to Francis & the Godfather beyond "Hey, here's what happened while they were making one of the greatest pieces of art ever to screen in theaters," but Variety notes that the film "tells the behind-the-scenes story of the film's creation, from Coppola joining the project to the casting of Al Pacino and Marlon Brando to dealings with the real-life New York mafia." However, there are plenty of other juicy, dramatic moments on the table, like how Francis Ford Coppola was nearly fired after the budget started to skyrocket and how studio executives were none-too-pleased with cinematographer Gordon Willis' moody lighting, which has since become iconic.
I can't help but wonder what else is going on with Francis & The Godfather. While there's some juicy trivia associated with the production of The Godfather, there are far more fascinating (and far more disastrous) tales of film production woes out there. Heck, the making of The Godfather was a cakewalk compared to the making of Apocalypse Now, which saw Francis Ford Coppola coming close to a complete nervous breakdown. If you haven't seen the documentary Hearts of Darkness, I'd recommend giving it a watch – just be aware that it may give you a gray hair or two.
No other talent is attached to Francis & The Godfather at the moment, but knowing HBO's pedigree, we'll probably see an interesting director sign on before long. And after that, we'll get to see a bunch of modern actors take on the roles of Coppola, Marlon Brando, and Al Pacino, which may prove a little surreal.