Star Wars Bits: Rian Johnson Talks 'The Last Jedi,' Donald Glover Talks Lando, And The Death Star Trench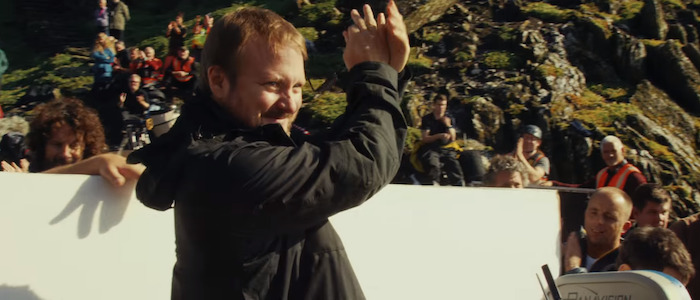 In this edition of Star Wars Bits:
Rian Johnson talks about his experience writing and directing Star Wars: The Last Jedi.
Woody Harrelson probably won't start filming the Han Solo movie for a few months.
Donald Glover is aware that he has to live to to Billy Dee Williams' coolness.
The Star Wars Show has a new co-host.
The Death Star trench is not where you think it is.
Marvel's Star Wars comics continue to bring back fan favorites.
New information about Rogue One: A Star Wars Story visual effects.
And more!
Empire has published a Q&A with Star Wars: The Last Jedi writer/director Rian Johnson and while he can't say too much about his mysterious movie, some of his answers certainly give us something to chew on. For example, here are the three movies he watched to prepare for the film:
Twelve O'Clock High was a big touchstone, for the feel and look of the aerial combat as well as the dynamic between the pilots. Three Outlaw Samurai for the feel of the sword-fighting, and the general sense of pulpy fun. And To Catch A Thief was a great film to rewatch, for the romantic scale and grandeur.
Johnson also spoke about the challenges of writing a Star Wars screenplay, which required him to stay away from the kind of dialogue and phrases you'd find in other movies:
I found myself constantly wanting to push modern idioms into the dialogue, and sometimes that can work, but you have to be very careful. If you go too far you can break that Star Wars spell. The other challenge is the tech talk, which has to be simultaneously complex enough to sound real and conceptually simple enough to follow. The original films were brilliant at that.
You can read the whole thing at the link above.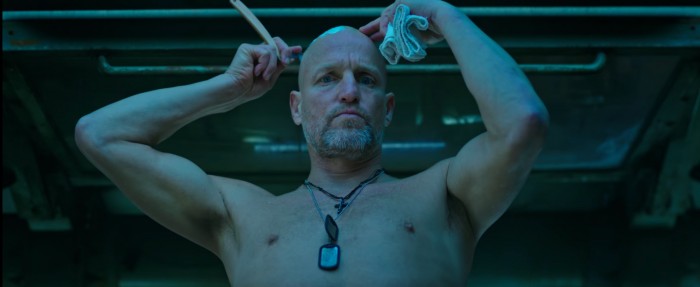 Although it certainly looks like cameras have begun rolling on the Han Solo movie, Woody Harrelson (who plays Han's mentor in the film) says that filming doesn't begin until March:
Woody Harrelson recently confirmed he's playing Han Solo's mentor in the next "Star Wars" movie, but the actor jokes about his own ability to lead.
"I wouldn't choose me," the actor shrugged and then laughed at the premiere of "Wilson" at the Sundance Film Festival in Park City, Utah.
Harrelson will play Garris Shrike. He also said the movie, which doesn't yet have a title, begins shooting in March.
Does that mean Harrelson himself doesn't actually begin filming until March and that the production is just grabbing some early stuff right now? We'll find out eventually. Also, it should be noted that Harrelson may not actually be playing Garris Shrike (a character from the old expanded universe), but rather a new character who fills the same role. Lucasfilm has been quiet on that front.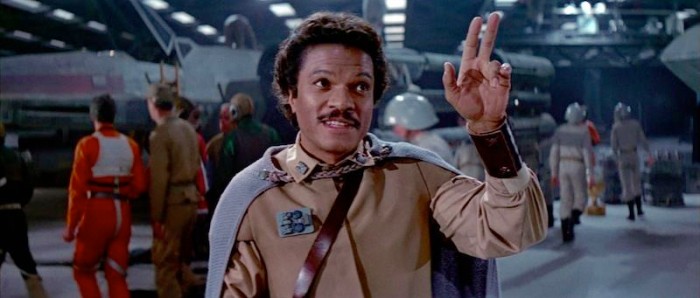 Speaking of the Han Solo movie and secrecy, Donald Glover (who will play Lando Calrissian in the film) says that he has yet to actually read the screenplay:
Donald is preparing for the role by cutting down on fast food and hiking to get into shape. Other than that, there's not much else he can do, as he has yet to see the script for the film, which is shrouded in secrecy.
"It's like an owl flies through your window and gives you a script; that's how quiet and confidential it is," he joked.
However, Glover is very aware that he's taking on a beloved character and that he'll have to work pretty hard to be as cool as Billy Dee Williams:
I think the point of all of this is just to make people believe you, so I just keep thinking about that. I'm not Billy Dee Williams; I am not that cool. I don't think anyone is really, but I just had to make it believable. I had to do my own 'cool'.
I called my mum and my dad when I heard I'd won the role, and she said to me, 'Don't mess this up. This is Billy Dee Williams, and he is really cool.' I take it very seriously.
The latest episode of The Star Wars Show dives into the reveal of the Star Wars: The Last Jedi title, goes behind the scenes of Rogue One, and introduces a new co-host in Anthony Carboni. Speaking of The Star Wars Show co-hosts, Andi Gutierrez participated in an AMA in the Star Wars Rebels subreddit and explained what it's like to shoot a YouTube series for Lucasfilm:
There's no such thing as a typical day. On days we shoot SWS episodes, it's pretty much a whole day process. Ex: shooting the intro/news in the morning, break for lunch and other meetings, shoot the closing segment.
Interviews happen whenever they can, same with variety segments. Sometimes there's weekend shoots, or really early mornings, which aren't awesome, but I try to keep in mind that I get to play and talk about SW so it's really not all that bad.
I definitely work closest with Scott, our producer/writer/comedic genius/Yoda Fountain voice, but Harper (camera/editing), Kyle (camera/editing), Frank (camera/editing) and Dana (general rockstar) also work on every shoot. We work really closely with Matt Martin on the story group as well, he was in our department before he went to SG.
The whole starwars.com team is pretty small, and VERY collaborative. Everyone plays a huge part. We're always bouncing ideas off each other and have an awesome flow.
You can read through all of her answers at the link above.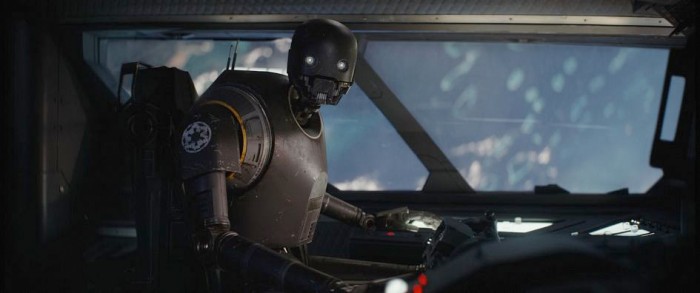 Collider has an excellent interview with the Rogue One visual effects team and as you'd expect, John Knoll, Hal Hickel and Neil Corbould are full of fascinating insights and information. I especially enjoyed Knoll talking about using Rogue One as a testing ground for ILM's newest technology:
Well, every film tries to advance the state of the art, at least a little bit. Brand new techniques? A lot of them are just evolutionary, we're just building on something that's like something we've done before and just trying to do it a little bit better or make it a little bit more realistic. This film is the first time we've used a real-time renderer, so our advanced development group has been working on a GPU based, game engine based, renderer to try and generate very high realism images, and we used it in production for the first time on Rogue One. There's a handful of shots, only a few, that are in the final movie of K-2SO that were rendered on a GPU. And I'm pretty pleased that you can't spot them, they look just like the other k-2 shots.
Today, @vickschutz and I learned a detail about "Star Wars" (1977); it's totally right there but we never grasped it.

— Todd Vaziri (@tvaziri) February 26, 2016
Think about the Death Star tench. You know where it is, right? Well, you may be completely wrong. ILM artist Todd Vaziri (who shared the tweet above almost a year ago) has finally revealed what he's been sitting on for some time – the Death Star trench is not that gap running around the side of the Empire's battle station:
Nearly everybody points at the equatorial trench of the Death Star. I asked dozens of die-hard fans, including many co-workers at Industrial Light & Magic, and nearly every single person pointed to the equatorial trench. If you asked me, I would also have said the equatorial trench.
In fact, this came up during ILM "Rogue One" dailies one day. Computer Graphics Supervisor Vick Schutz and Visual Effects Supervisor John Knoll were chatting about the details of our computer graphics version of the Death Star, and Knoll casually remarked that the trench run in "Star Wars" is a longitudinal line on the Death Star (meaning, a north-south trench).
Most of us in the room were dumbfounded. "What did he say?"
You can read his whole explanation at the link above and yes, the actual Star Wars movies back this up if you pay attention.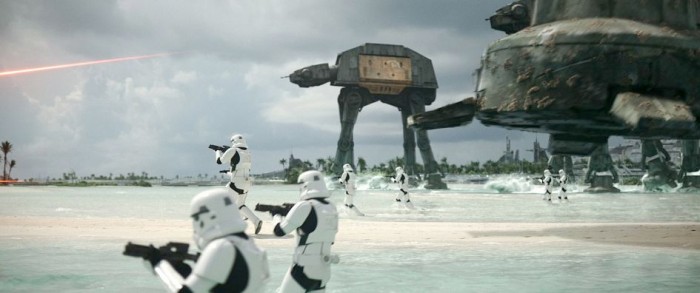 Fangirl Blog has a new interview with author Alexander Freed, who was most recently responsible for the Rogue One novelization. The whole thing is worth a read, but I enjoyed him talking about the process of writing a book based on a movie without having seen the movie:
That was one of my first tasks when I sat down with the script: breaking the film down into chapters and scenes, and figuring out who would serve as the viewpoint character for each sequence.
When I'm writing original material, I typically build scenes around characters – there's no question whose head I want the reader to be in. Here, I had to figure out not only which character had the most at stake in every scene, but also what unique perspective they might have to offer – and what I was okay leaving out (because not every character will notice everything going on in every scene – the audience may see something in the film that a viewpoint character in the book simply doesn't care about).
Nice "hidden" reference at Star Tours. See it? #HollywoodStudios @WaltDisneyWorld pic.twitter.com/IRALvzod5x

— Chris Pirillo (@ChrisPirillo) January 25, 2017
Let's play a game of "spot the reference in the Star Tours queue at Walt Disney World."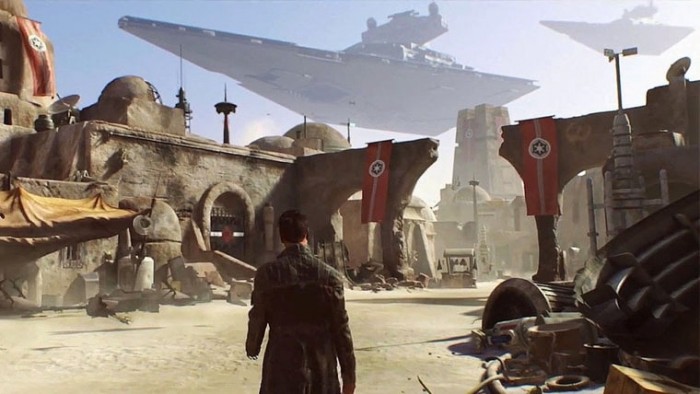 According to Star Wars News Net, Visceral's long-in-development Star Wars video game has undergone some radical changes behind the scenes. According to their sources, the game was originally a Han Solo game, but it's story and characters have been changed now that a Han Solo movie is actually happening:
Long story short. Source A and Source B and I were drinking and Source A asked B what was up with the game and why it wasn't out. I didn't even know B was working on the project at this point. B said the games been redesigned (plot wise, the art and stuff while obviously improved is largely the same as its still the SW universe). A asked why, B said he got the vibe that it was because it was covering too much of the same ground as the solo film project. A said that made sense as (like I previously told you) he got the vibe the story parts of the game were actually being directed by people at Lucas Film and not the creative team. Now the game is about some random smuggler and a largely different plot. It sounds like some of the baddies may be the same but it's largely a new plot. So now it's a totally different project with similar themes.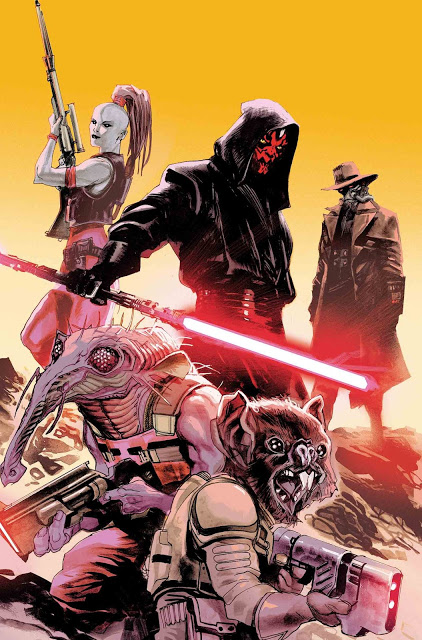 The cover for the third issue of Marvel's Darth Maul comic book miniseries has been revealed and it introduces a pleasant surprise for fans. It seems that this story, set in the time before The Phantom Menace, will feature "a band of bounty hunters" and appearances by Cad Bane and Aurra Sing. Fans of the Star Wars: The Clone Wars animated series should be happy to see these two again, both of whom became fan favorites thanks to their appearances on that show. It should be noted that Aurra Sing was on Tatooine during the events of Episode I (you can see her during the podracing scene), which means that she was on the desert planet at the same time as Darth Maul. Just how many times will these two cross paths? Anyway, this comic will also mark the first chronological appearance of these characters, which is pretty cool.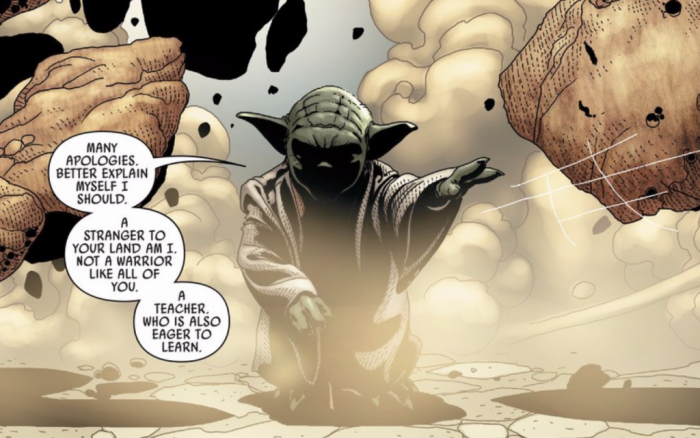 Speaking of Marvel's Star Wars comics, Star Wars #27 flashed back to an early Yoda adventure, with the small-but-powerful Jedi Master encountering a strange "Force Stone." This series has already featured a number of flashbacks to Obi-Wan Kenobi adventures, so putting Yoda in the spotlight was a nice change of pace. If you don't want to track down an issue for yourself, Star Wars News Net has written a summary of everything you need to know.
If you've ever felt that more galactic conflicts should be resolved through Force-powered chess games, then just know that this animated short is for you.