'I'm Dying Up Here' Trailer: A Showtime Series Set In The World Of 1970s Stand-Up Comedy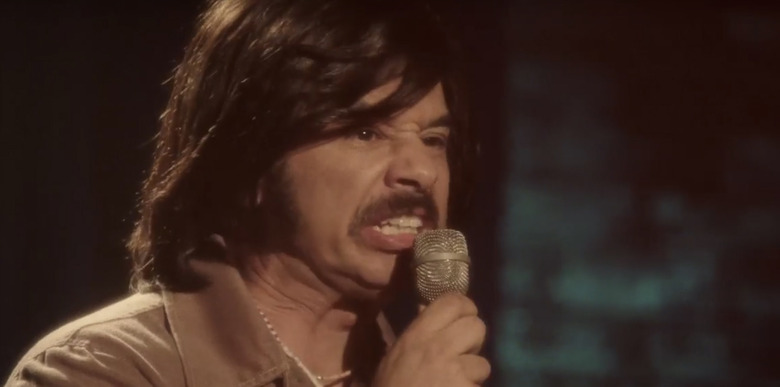 There have been plenty of great series on Showtime. However, personally, I've never felt compelled to subscribe in order to watch any of them. That might change with the cable network's new series set in the world of 1970s stand-up comedy.
I'm Dying Up Here follows a group of stand-up comedians (played by Clark Duke, R.J. Cyler, Ari Graynor, and more) hoping to make it big at a time when stand-up comedy was one of the most popular forms of entertainment in the country. Every comedian was hoping to land an agent and end up on Johnny Carson, and if the Tonight Show host shook your hand and welcomed you to sit down, then you had it made.
Watch the I'm Dying Up Here trailer after the jump.
What's great about this series is that is meshes some outstanding dramatic actors with plenty of comedy stars who also have a foot in the world of stand-up and sketch comedy. Melissa Leo is the woman behind the club Goldie's where all the action is, while other cast members include Michael Angarano (The Knick), Andrew Santino (Mixology), Erik Griffin (Workaholics), Al Madrigal (The Daily Show) and Jake Lacy (Obvious Child).
And those are just the regular cast members. There's an impressive array of guest stars such as Stephen Guarino (Happy Endings), Brianne Howey (Horrible Bosses 2), Jon Daly (Kroll Show), Ginger Gonzaga (Togetherness), Dylan Baker (The Good Wife), Robert Forster (Jackie Brown), Cathy Moriarty (Raging Bull), and even Captain America: Civil War star Sebastian Stan and Spider-Man 2 villain Alfred Molina.
Even though I didn't live through the 1970s, the spirit of the world of stand-up comedy hasn't changed at all, and this looks like it captures what it's like to be a struggling stand-up comedian. You're always desperate for those laughs. It's like a drug. And no one understands that better than series executive producer Jim Carrey, which is probably why this feels so authentic. Here's hoping he makes some kind of cameo appearance as Andy Kaufman.
The new one-hour Showtime drama series I'm Dying Up Here explores L.A.'s famed '70s stand-up comedy scene where the careers of legends such as David Letterman, Jay Leno and Richard Pryor were launched. The series delves into the inspired, damaged and complicated psyches of those who stand alone in front of an audience "dying" for fame, fortune and, with any luck, a shot on Johnny Carson.
I'm Dying Up Here stars Academy Award winner Melissa Leo (Wayward Pines, Treme), Ari Graynor (Bad Teacher), Michael Angarano (The Knick), Clark Duke (Hot Tub Time Machine), Andrew Santino (Mixology), Erik Griffin (Workaholics), RJ Cyler (Me and Earl and the Dying Girl), Al Madrigal (The Daily Show), and Jake Lacy (Obvious Child) as part of a large ensemble cast.
This fictional group of competitive but close-knit comedians is mentored by "Goldie" (Leo), a brassy comedy club owner who rules over her business with an iron fist, but nurtures her comedians with tough love. For Goldie and her crew, there's truly no such thing as an easy laugh.
I'm Dying Up Here premieres on Sunday, June 4th at 10PM ET/PT.