Disney Channel Has Canceled 'Girl Meets World'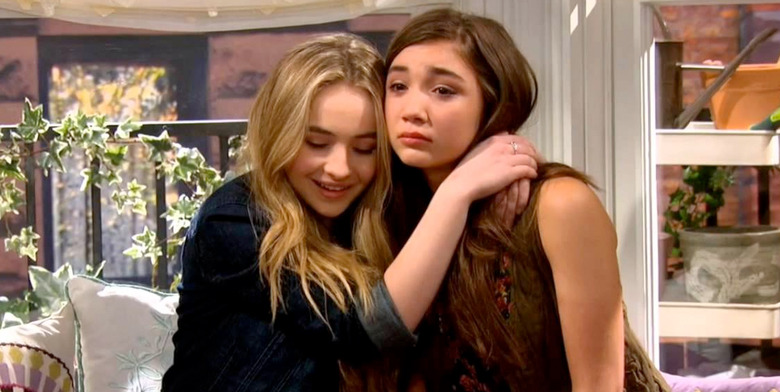 After rumors swirled last week that Girl Meets World hadn't been renewed for a fourth season, Disney Channel has made it official.
The spin-off of the ABC sitcom Boy Meets World will be coming to an end when the third season finale airs later this month. The good news is that it seems like the writers weren't completely blindsided by this decision, and the final episode will have a somewhat proper send-off for fans who will be sad to see it go.
News of Girl Meets World canceled first arrived last week when series co-star Rider Strong (who was also a co-star on Boy Meets World back in the day) said the show would be coming to an end after the third season was over. The writers followed up by saying that Disney Channel hadn't officially made a decision about renewing the show, but their verdict was coming soon. And here we are.
The writers wrote this in a series of updates on their official Twitter account (via THR):
"It is with incredible pride in our work and complete sadness that things end, that I report to this wonderful audience that our show is over. I just officially got the call, and would like to thank this audience for its incredible love and loyalty. Please watch our January episodes. We leave you with three incredible souvenirs of a show we couldn't be more proud of. As I look back I can tell you with absolute certainty – We gave you our best."
Though the show was an entertaining trip down memory lane with a fresh spin on things, Girl Meets World didn't seem to catch the same big nostalgia train that something like Fuller House has, and I think that's mostly because of the fact that it was on The Disney Channel. While the comedic style and storylines weren't remarkably different from Boy Meets World, it did feel like there was a certain kind of authenticity that wasn't coming through in Girl Meets World. It also didn't help that episodes were aired out of order, and sometimes you could only tell aesthetically, because character development felt episodic and not serial.
Despite strong performances by Rowan Blanchard as Riley, the daughter of Cory (Ben Savage) and Topanga (Danielle Fishel), and Sabrina Carpenter as her best friend Maya, the show just felt like it was missing a certain spark that the original series had. That's not to say they didn't try by tackling some interesting issues that plague adolescents today, but it only seemed to scrape the surface and never really dug as deep as Boy Meets World did before it.
The series expanded the roster of primary characters outside of the two girlfriends to include school pals like Farkle (Corey Fogelmanis) and Lucas (Peyton Meyer), not to mention returning Boy Meets World characters such as Shawn Hunter (Rider Strong) and Eric Matthews (Will Friedle). They helped make the show a little more fun, but nothing quite substantial enough to help sustain it.
Still, the series did have quite the fan following, and lead actress Rowan Blanchard couldn't be more grateful for them:
As I said earlier, the final episodes will give some closure for fans rather than just feeling like an ending is coming out of nowhere. Appropriately, the final episode of Girl Meets World will be titled "Girl Meets Goodbye," and it features quite the cavalcade of guest stars, including William Daniels (Mr. Feeny), Anthony Quinn (Mr. Turner), William Russ (Alan), Betsy Randle (Amy), Lee Norris (Minkus), Danny McNulty (Harley), Lily Nicksay (Morgan No. 1) and Lindsay Ridgeway (Morgan No. 2), and of course Rider Strong and Will Friedle.
The series finale of Girl Meets World will air on January 20.