'Beauty And The Beast' TV Spots: Emma Watson Talks To A Hair Brush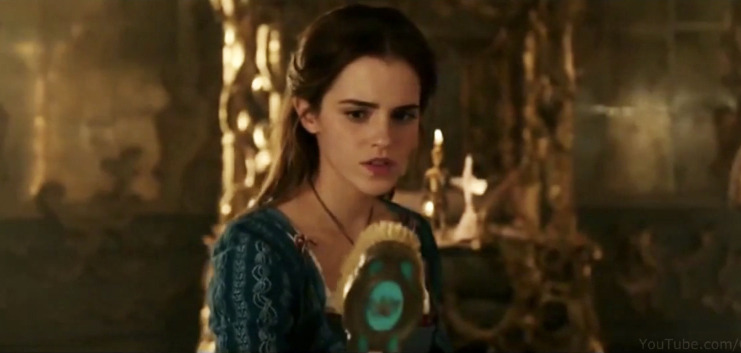 The new year has just started, but we're only a few months away from seeing one of the most anticipated movies of 2017 on the big screen. Disney is continuing their trend of remaking their animated classics with Beauty and the Beast this spring. We've already seen how loyal the new live-action adaptation is to the original animated take on the classic tale in the full theatrical trailer, and now we get to see some tidbits of new footage thanks to a couple of TV spots.
Watch the new Beauty and the Beast TV spots below.
The TV spots contain mostly footage we've already seen, but there are some extra bits in there that haven't been featured before. One of the more notable inclusions is Belle (Emma Watson) meeting the talking household items such as Lumiere (Ewan McGregor), Cogsworth (Ian McKellan) and Mrs. Potts (Emma Thompson) which leads her to talk to a hairbrush, which she quickly learns isn't alive like the rest of the furniture (who had their human forms revealed not too long ago).
The more footage I see from this movie, the more concerned I am about the visual effects used for The Beast (Dan Stevens). There's something about his face that doesn't work for me. The biggest problem lies in the eyes, I think, but maybe it's just that seeing a live-action, photo-realistic beast with human features like this never quite looks natural enough to be convincing.
What I'm really looking forward to seeing is just how much of a douchebag Luke Evans is as Gaston, not to mention Josh Gad as his sniveling sideick LeFou, not to mention their musical sequences in the movie.
Disney's "Beauty and the Beast" is a live-action adaptation of the studio's animated classic which refashions the classic characters from the tale as old as time for a contemporary audience, staying true to the original music while updating the score with several new songs. "Beauty and the Beast" is the fantastic journey of Belle, a bright, beautiful and independent young woman who is taken prisoner by a beast in his castle. Despite her fears, she befriends the castle's enchanted staff and learns to look beyond the Beast's hideous exterior and realize the kind heart and soul of the true Prince within.
Beauty and the Beast is in theaters March 17, 2017.