'Crashing' Trailer: Pete Holmes Hasn't Seen 'The Wire'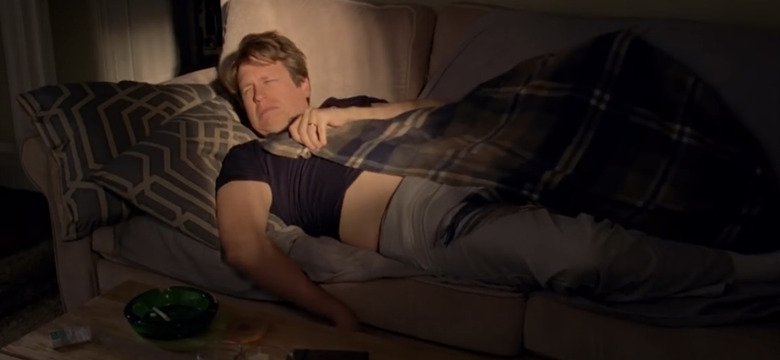 February will bring a new HBO comedy series to air from comedian Pete Holmes, fresh off his recent stand-up comedy special on the cable network. Inspired by his own trials and tribulations in life as an up-and-coming comic who married young only to end up divorced, Crashing follows a comedian not unlike Holmes himself as couch surfs around New York City, staying with friends and trying to figure out just what the hell to do with his life.
Now a new Crashing trailer has debuted, showing off more of Pete's comedy struggles, trying to hand out flyers to shows, having odd gaps in his knowledge of pop culture while making obscure references to things like Will Smith rap albums and coming to terms with the fact that he's actually homeless.
Watch the new Crashing trailer below.
Much of what will happen on the show is directly inspired by Pete Holmes' personal experiences. His wife was actually discovered to be cheating on him, and all he had was his rising comedy career and all his friends from that unique world to help him. Holmes has cited his personal friend and fellow comedian John Mulaney as being key in helping him through this difficult time in his life, so I hope Mulaney ends up having some sort of role in the show.
Otherwise, the series will feature Artie Lang, Lauren Lapkus and T.J. Miller. There's also a cameo by Sarah Silverman in the above trailer, and lesser known but outstanding comedians like Henry Zebrowski also appear. More than likely, there will be plenty of comedian cameos made by Pete Holmes' many friends in the business, both well-known and more obscure.
It's kind of amazing that this series exists after Pete Holmes once jokingly pitched a show about his life and divorce when Judd Apatow appeared on the now-canceled The Pete Holmes Show on TBS. At the time, Apatow jested, "That doesn't seem like a comedy at all, that seems tragic and sad." But now here we are with a show about Holmes' life executive produced by Judd Apatow.
Created by and starring Pete Holmes, Crashing follows a standup comic who discovers that his wife is unfaithful, leading him to reevaluate his life amidst the New York City comedy scene. Artie Lange, Lauren Lapkus and T.J. Miller also star. Judd Apatow and Pete Holmes executive produce.
Crashing hits HBO starting on February 19.