Star Wars Bits: Carrie Fisher Updates, Rian Johnson Defends The Prequels, And What Happened To Yavin IV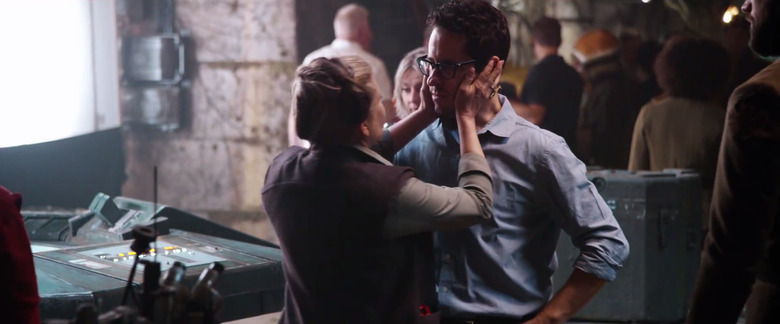 In this edition of Star Wars Bits:
Carrie Fisher completed her work on Star Wars: Episode 8 before she passed away.
Rian Johnson offers a simple and compelling defense of the prequels.
Carrie Fisher was working on a new one-woman show prior to her death.
Adam Driver has a number of nice things to say about his Episode 8 director.
Poe Dameron comic writer Charles Soule will pay tribute to Carrie Fisher in an upcoming issue.
There is now an official online store to buy Star Wars autographs.
The Doctor Aphra comic is about to explore what happened to Yavin IV.
The Han Solo movie is about to begin casting its supporting cast.
It may be uncouth to wonder out loud what future Star Wars movies will do in the wake of Carrie Fisher's death, but here we are. Deadline reports that she had finished her work on Rian Johnson's Star Wars: Episode 8 and that she was expected to return for Star Wars: Episode 9:
...had already completed the next feature in the franchise, Star Wars: Episode VIII, a source close to the production told Deadline. It was expected the actress would return for Star Wars: Episode IX, but that won't be shooting for about a year.
Although the details remain carefully locked away, we can safely assume that Colin Trevorrow will have to tackle some major rewrites in the months ahead for his Episode 9 screenplay. Hopefully, no one involved will be tacky enough to suggest a CGI recreation of Fisher. In any case, Deadline also reports that Fisher plays a bigger role in Episode 8 than she did in The Force Awakens:
For Episode VIII, Leia had a larger role, we're told, and her daughter, Billie Lourd also is in that film as well as in Force Awakens. 
That may be the thin silver lining on all of this: we still get to watch her play Leia one last time.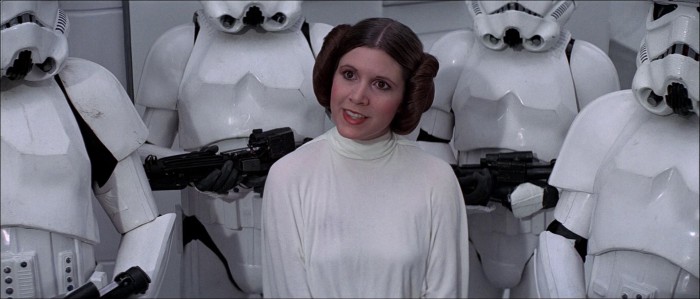 Future Star Wars movies aren't the only projects tragically cut short in the wake of Carrie Fisher's death. According to Indiewire, Fisher was moving forward with a sequel to her 2008 one-woman stage show Wishful Drinking, which later become the title of her bestselling memoir. The follow-up would have been called Wishful Drinking Strikes Back: From Star Wars to, uh, Star Wars. Unfortunately, Fisher suffered a heart attack the day after the play was commissioned.
There's a funeral in Poe Dameron #14, and Leia's present – writing that scene today. Wasn't originally about her, but now it will be.

— Charles Soule (@CharlesSoule) December 27, 2016
Writer Charles Soule took to Twitter to reveal that an upcoming issue of his Poe Dameron comic series, which takes place before the events of Star Wars: The Force Awakens, will now pay tribute to Carrie Fisher. While Fisher has passed on, Leia will continue to loom large in the larger Star Wars universe. She's become immortal.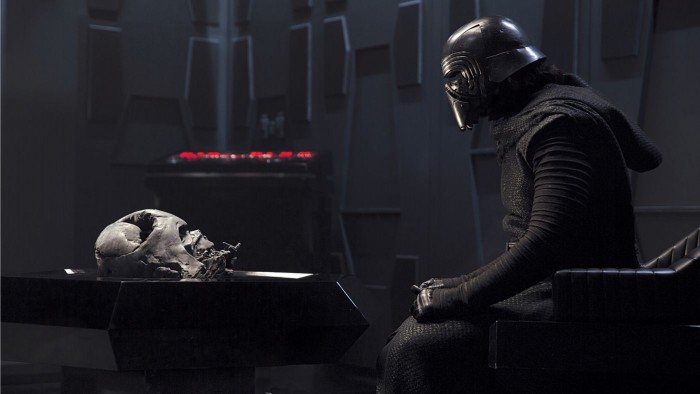 Between Paterson and Silence, Adam Driver has been having one hell of a year, using that Star Wars momentum to work with some of the finest filmmakers alive at the moment. However, he'll be forever addressing Star Wars questions in the middle of interviews that are otherwise focused on other projects, like when he spoke about Star Wars: Episode 8 director Rian Johnson with The Daily Beast:
He's a brilliant filmmaker. And he wrote the script also, and he understands the importance of ambiguity and nuance. He wrote something that I think is remarkable.
And nah, he's still not quite used to the fact that he's a Star Wars villain:
It is a trip! I'm not very good at analyzing it, I guess, or even making time to attach meaning to it. So much of it is luck, and timing. I work hard but I can work hard in a vacuum. I've been lucky to get these opportunities. It's very surreal to me. In working on the jobs—and actually doing the thing—I block that stuff from my mind as much as possible, because it's not good to get nostalgic or overthink it. That might be a good strength of mine: not thinking a lot.
Speaking of Rian Johnson being brilliant, the Episode 8 director offered the above defense of the Star Wars prequels on Twitter. And you know what? That may be the most succinct and convincing defense of the Star Wars prequels I've ever heard.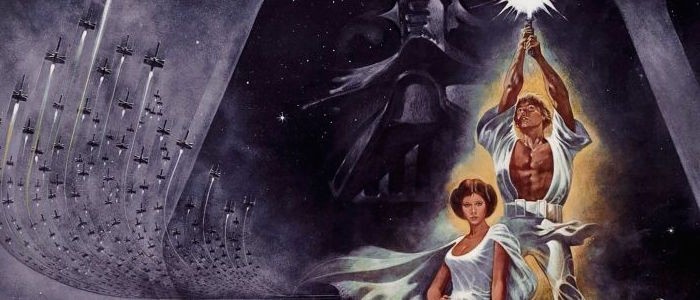 If you're looking for a place to purchase some authentic autographed Star Wars memorabilia, you now have a one-stop shop. Star Wars Authentics has officially launched and its shop is already filling up with official photos and autographs, which range from $99.99 to $499.99. And while that's certainly not cheap, StarWars.com reports that the site is built to ensure total authenticity:
Authenticators, Inc., the industry standard verification service originally built by the MLB Authentication Program, will authenticate all autographed items. An A.I. authentication representative, who affixes a tamper-proof hologram to each photo, will witness every single autograph. In other words, all autographs are guaranteed authentic.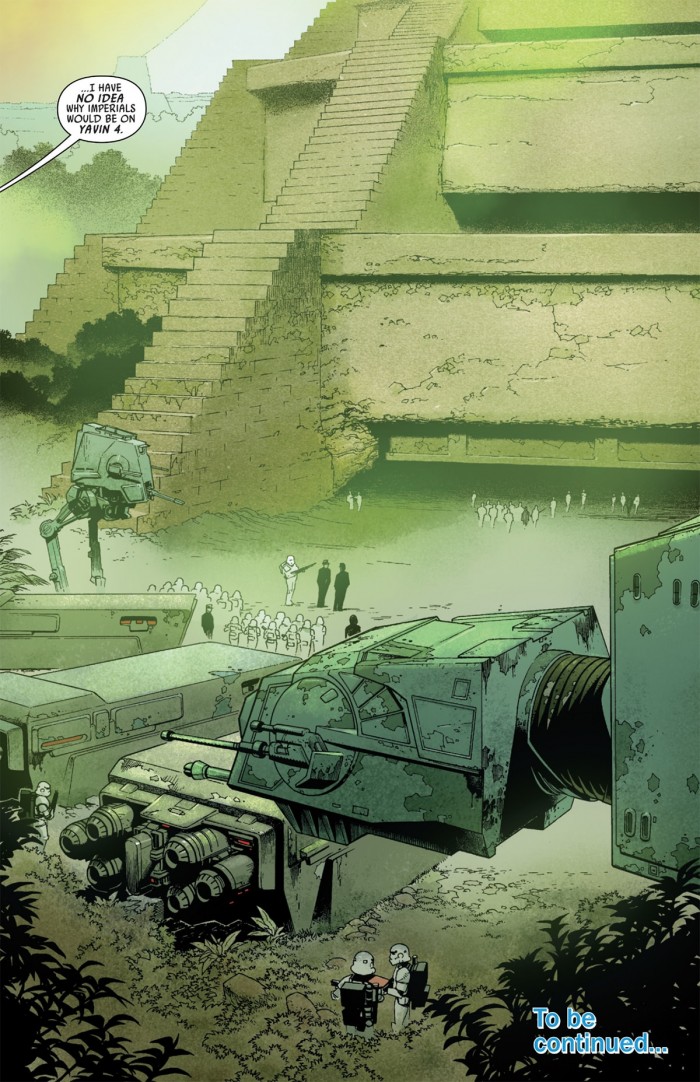 We're only two issues into Kieron Gillen and Kev Walker's Doctor Aphra comic series, but the Darth Vader spin-off has already proven itself to be a refreshingly off-kilter look at the Star Wars universe. The second issue finds the title character, an ethically dubious archaeologist, reuniting with her well-meaning father and seeking out an ancient temple, only for the last page to reveal them arriving on Yavin IV, which is occupied by Imperial forces. Of course, that is the location of the Rebel Alliance base seen in the original Star Wars and Rogue One, which was abandoned at some point as the rebels relocated to Hoth (as seen in The Empire Strikes Back). It looks like this series will fill in a few blanks in the Star Wars timeline while also explaining what those ruins actually represent beyond a very cool location. A tip of the hat to Comic Book Resources, who have more information on the issue if you follow that link.
Speaking of Doctor Aphra, she has joined the character roster of the Star Wars: Force Arena game and you can watch video of her in action in the video above.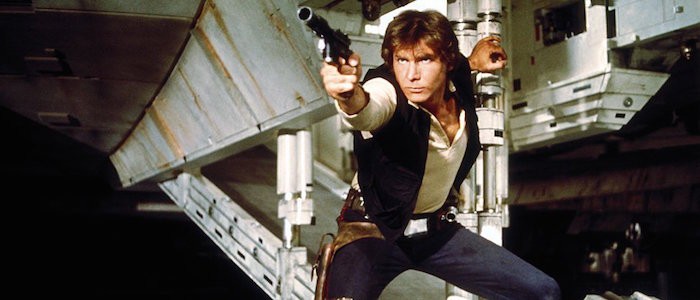 Omega Underground has shared a casting call for Chris Miller and Phil Lord's upcoming Han Solo spin-off film, which is set to begin filming in February. The whole thing smells fairly legit, but you know the drill by now: grain of salt, etc. If you live and work in Los Angeles or London and fancy yourself right for a supporting role in a Star Wars movie, you can read the whole thing below for the relevant details:
Walt Disney Studios and Lucasfilm in association with Kasdan Pictures and Genre Films will begin shooting "Untitled Han Solo Star Wars Anthology Film" principal photography in February, 2017. Auditions are being set up in Los Angeles and London for new supporting roles. Filming will take place at the Pinewood Studios in London, England among other undisclosed locations in the United Kingdom. Experienced film crew members can also now submit resumes to the production office email below. To be considered, all actors MUST have legal eligibility to work in the entertainment industry in London. Details below. "Han Solo: A Star Wars Story" is using the working title "Red Cup".
"Untitled Han Solo Star Wars Anthology Film" centers on how young Han Solo became the smuggler, thief, and scoundrel whom Luke Skywalker and Obi-Wan Kenobi first encountered in the cantina at Mos Eisley. Starring in "Han Solo: A Star Wars Story" is two-time Teen Choice Awards nominee Alden Ehrenreich playing the role of young Han Solo. Ehrenreich was officially booked in the lead role after thousands of actors auditioned. He recently completed filming on the Warner Bros. feature film "The Yellow Birds", starring opposite Jennifer Aniston. Also starring in "Han Solo: A Star Wars Story" is Golden Globe Award nominee Donald Glover playing the role of Lando Calrissian, and three-time Primetime Emmy Award nominee Emilia Clarke in the female lead role.
Phil Lord and Christopher Miller will direct the project from a screenplay written by four-time Academy Award nominee Lawrence Kasdan and Sundance Film Festival Grand Jury Prize nominee Jon Kasdan. Executive producers are Lawrence Kasdan and Jason D. McGatlin. Producer is eight-time Academy Award nominee Kathleen Kennedy. Will Allegra will serve as co-producer.
Walt Disney Pictures casting directors are auditioning actors for new supporting roles in the upcoming "Untitled Han Solo Star Wars Anthology Film". All actors are required to be legally eligible to work in London and in the United Kingdom, where filming will take place beginning in February, 2017. The London Actors Resource Guide eBook contains the information and documents for adults, minors, and foreign talent who would like to work as an actor or extra on film productions in London and the United Kingdom. 
Starring and supporting roles are mainly being cast through talent agents. 
Submit photos and resumes by mail only.
No phone calls or personal drop-offs.
United States:
Han Solo Star Wars Anthology Film
Jeanne McCarthy/Nicole Abellera Casting
1750 Ocean Park Blvd.
Suite 208
Santa Monica, CA 90405
United Kingdom:
Han Solo Star Wars Anthology Film
Hubbard Casting
14, Rathbone Place
London W1T 1HT
United Kingdom