Rogue One Bits: Anthony Daniels Cussed Out Alan Tudyk, Novelization Details, And A Look Back At 'Shadows Of The Empire'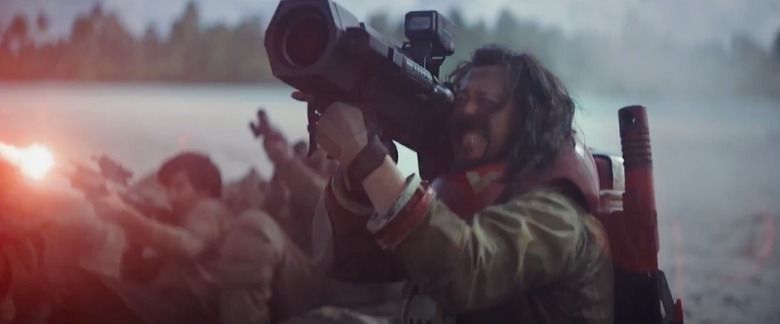 In this edition of Rogue One Bits:
An interview with with Rogue One: A Star Wars Story co-production designer Doug Chiang.
That time Anthony Daniels cussed out Alan Tudyk.
Pablo Hidalgo answers a few pressing Rogue One questions.
Everything you need to know from the Rogue One novelization.
The cool story behind one of Rogue One's cameos.
Another connection between Chirrut and the Jedi.
A look back at Shadows of the Empire.
And more!
Long before Rogue One, there was Shadows of the Empire, the "Star Wars Story" that was everything except a movie. Thrillist has published an excellent look back at this novel, video game, and comic series, which pre-dated the prequels and special editions and filled in the narrative gaps between The Empire Strikes Back and Return of the Jedi. As the article points out, this project predicted a future where big synergistic events like this would become commonplace:
With the Star Wars machine running at full tilt once again, thanks to the gargantuan success of Rogue One, and no end of sequels, spinoffs, and marketing synergies in sight, the 20-year-old movie-without-a-movie, which featured unprecedented cooperation between Lucasfilm divisions and select partners, feels like an even bigger milestone. If George Lucas' movies served as the Star Wars universe's Big Bang, the Shadows of the Empire project was its first telescope, a device that focused the efforts of multiple authors, artists, and game-makers on creating a single story. This is how it happened, and then disappeared from Star Wars mythology forever.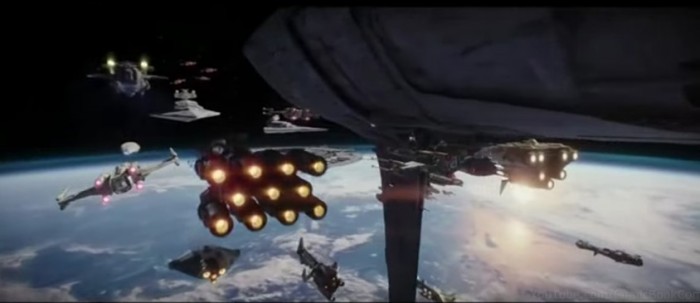 StarWars.com has published an interview with Rogue One co-production designer Doug Chiang, who revealed that the film was a dream project for him. While he's worked on the Star Wars prequels and on The Force Awakens, the chance to design new ships and locations for the original trilogy era was the fulfillment of his childhood dreams:
So for me, the excitement was, for Rogue One, the opportunity to actually go and tap into that desire that I had — that fire — of drawing an actual Episode IV design. It's something that I've always wanted to do, but you realize that when you're actually doing that, it's also fulfilling something that's very daunting, because I have such great respect for those designs. In my mind, they're some of the purest and most successful cinematic designs, and to think that we could even sort of design elements in our film that would hold up to that same bar was just really daunting. But I loved that challenge, and that was the same challenge that Gareth really demanded of us, which was, "Let's set the bar as high as we can." Because both of us, Gareth and myself, hold Episode IV design as the high bar for cinematic design, for this kind of film. So our goal was really, "Here's the bar, let's try to reach up to it." Even if we don't succeed, at least we're striving for some excellence.
It was kind of frightening. The first couple of days, you think you know Star Wars, but when you actually try to draw your version of the X-wing, it's really hard. In some ways, Joe Johnston nailed the proportions, and for me it's really hard to improve on that. You can't change the proportions to make it better. So that was the thing that was an interesting lesson that I learned. You can take the visual language of Star Wars, the design language that has been established by George, and you can kind of do your interpretation of that, but you're not really directly comparing it to anything that has been established. In Rogue One, we were doing exactly that. We were designing the U-wing to fit exactly with the X-wing, and so that made it a lot more challenging for us.
You can read the whole interview at the link above.
Anthony Daniels has spent decades of his life staying fit to squeeze into that C-3PO costume, battling discomfort at every turn to bring one of cinema's most iconic robots to life. And than Alan Tudyk comes along with K-2SO and does the whole thing with motion capture. Tudyk told Conan O'Brien what went down when Daniels visited the set and learned of this:
He came to the set while we were shooting and I met him. I went up and met him and said I was a droid, and he knew knew of me. Small club! C-3PO said — or Anthony Daniels said — went on about the suit that he had to wear: 'Originally, they put screws in my head, they closed it' and he had to be on this thing and he said, 'Wait a minute, are you wearing an actual robot costume or are they doing it motion capture?' And I said, 'Motion capture.' And he said, 'You shit.'
There's an equally funny epilogue to this story, but you can watch the video above to hear that.
Everyone, myself included, has said that Rogue One ends minutes before the original Star Wars begins. Pablo Hidalgo of the Lucasfilm Story Group says that's a little inaccurate, even if he doesn't offer any specifics.
Hidalgo also slyly revealed that Darth Vader's castle was part of the reshoots, implying that his confrontation with Orson Krennic once took place elsewhere.
If you don't have time to read the Rogue One novelization, Star Wars Explained has got you covered with this new video, which recaps everything that you need to know from the book that wasn't in the movie.
Star Wars Explained has also dedicated an episode to Bor Gullet, the interrogator working for Saw Gerrera. You know. The weirdo with the tentacles.
And finally, Star Wars Explained dug into the history of the Erso family, exploring how they ended up in Rogue One.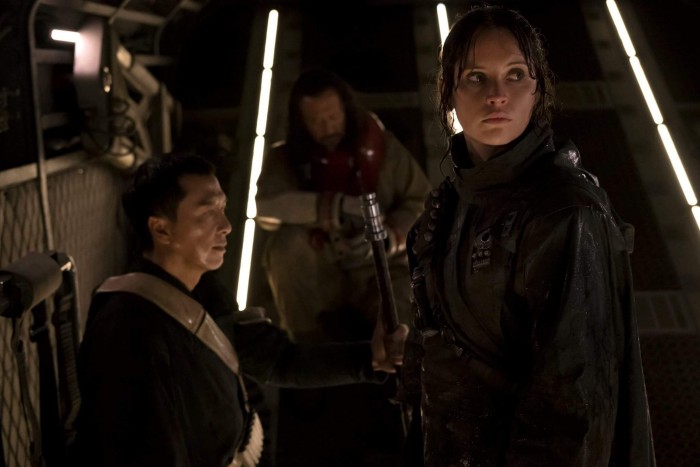 For additional reading, Mashable has answered 17 questions from Rogue One using information from the novelization. I especially enjoyed these details about why Jyn Erso is in prison when he first meet her adult self in the film:
It seems our hero has been in and out of prison since leaving Saw Gererra. The book finds her in her cell lamenting that "she couldn't blame some petty dictator for ordering her dragged off the street and slammed into holding when she really, truly was planning to blow up his ship and steal his guns."
Her sentence was 20 years, but she expected to die in five. Not least because of that tentacled creature on the opposite bunk in Jyn's cell — a woman called Nail, nicknamed "Kennel" for the parasites in her jacket. Nail is quite open about the fact that she intends to kill Jyn.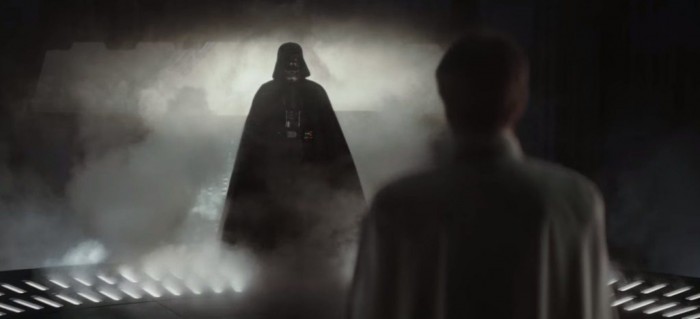 For additional extracurricular reading, IGN has assembled a look at what Darth Vader did in between the events of Revenge of the Sith and Rogue One. When he wasn't chilling out in his bacta tank in his castle on planet Mordor, the dark lord of the Sith was starring in several novels and playing a key role in Star Wars Rebels.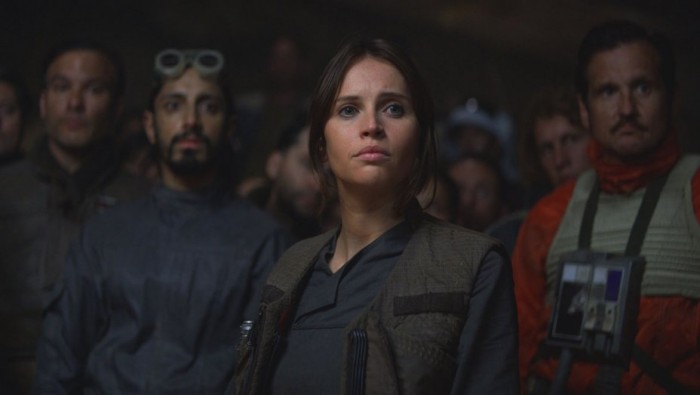 You see that gentleman in the orange X-Wing pilot suit standing behind Felicity Jones' Jyn Erso? That's Harb Binli, otherwise known as Red Seven of Red Squadron. But he's played by Ben Hartley, a former Navy pilot who has worked as a technical advisor on major Hollywood films in the past, specializing in recruiting former soldiers to appear in major movies. The Hollywood Reporter has published an interesting profile on how he came to be involved in Rogue One, where he served as an aviation advisor before his big close-up:
When they reshot it the second time, I was right behind Felicity and when they did the final reshoot – where much of the footage is from – the AD kept pushing me further forward. When they framed up the camera, they realized they needed to fill a gap so I was drawn right to the front of the table. From that point I absolutely knew that I was going to be quite key in this scene.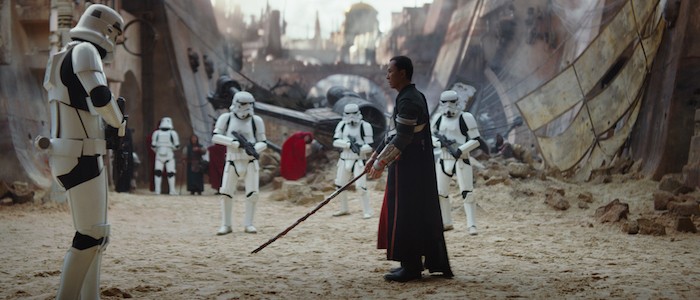 Donnie Yen's Chirrut Îmwe may not be a Jedi and he may not wield as lightsaber, but he does follow the path of the Force and we now know that his weapon of choice comes equipped with its own kyber crystal. As explained by the Rogue One: The Ultimate Visual Guide book (via Screenrant):
Designed as a symbolic source of inner illumination, it also allows Chirrut to better gauge where the end of the staff is, as he can hear both the battery and crystal harmonic.
In the film, we see Chirrut pick Jyn out from a crowd by sensing the kyber crystal around her neck, so him keeping one of these Jedi artifacts in his staff makes practical and symbolic sense.
We've already written a great deal about the footage from the Rogue One trailers that didn't end up in the finished film, but this new video is a fine recap of both known and unknown information.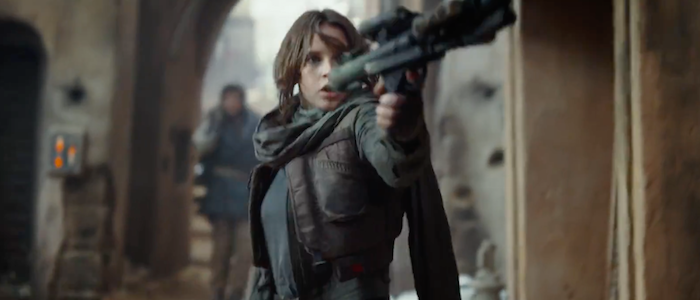 And finally, Rogue One composer Michael Giacchino appeared on the latest episode of NPR's Wait Wait...Don't Tell Me show, showing up in the "Not My Job" segment.