New 'Blade Runner 2049' Images Show Off New Characters, Familiar Faces, And An Impeccably Dressed Ryan Gosling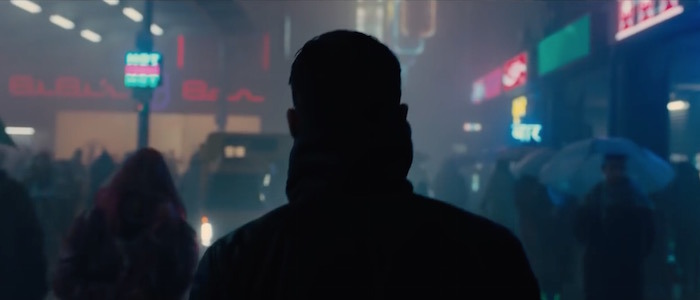 The first teaser trailer for Blade Runner 2049 arrived two days ago and it got the entire internet yammering over what it shows and it what it pointedly does not reveal. Denis Villeneuve's sequel to Ridley Scott's 1982 science fiction masterpiece may have released an official synopsis, but it is holding most of its cards close to its vest. If early word is any indication, the actual plot of the film is going to lead to some heads exploding (or at least inspire some spirited conversation).
Can we glean any exciting details from a new batch of images from the film? Nah. Not really. But we can ogle how pretty this movie looks and admire Ryan Gosling's amazing coat.
The images were revealed in a new gallery over at Entertainment Weekly, who are dedicating an upcoming cover story to the film. We've borrowed a few of our favorites to share below, but interested parties will want to click that link to see everything.
Before we get to the images themselves, here is that synopsis, which reveals that the decades between the first and second movie will apparently be a vital plot point in Blade Runner 2049:
Thirty years after the events of the first film, a new blade runner, LAPD Officer K (Ryan Gosling), unearths a long-buried secret that has the potential to plunge what's left of society into chaos. K's discovery leads him on a quest to find Rick Deckard (Harrison Ford), a former LAPD blade runner who has been missing for 30 years.
And, spoiler alert! Ryan Gosling's Officer K does find Rick Deckard. The actual nature of this search and why he needs to find Harrison Ford's former robot-hunting police officer and how this "long-buried secret" factors into things remains very much under wraps at the moment. Also worth noting: Gosling's cop is dressed like the future detective everyone dreams about, while Ford's exiled Deckard is dressed like it's Sunday afternoon and the game is on and he has plenty of Cheetos and beer and doesn't need to leave the house, thank you very much.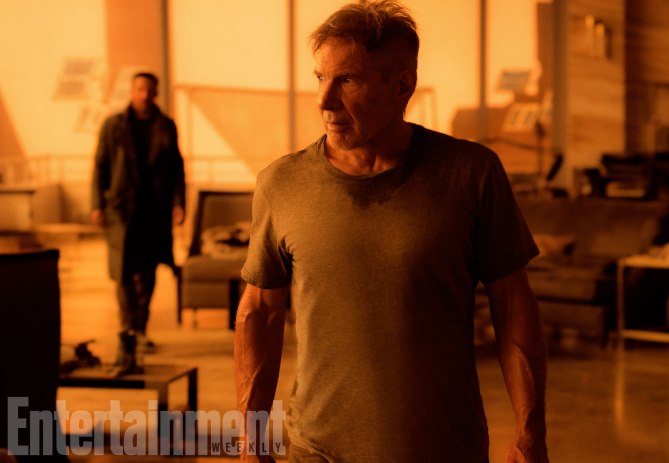 It wouldn't be a Blade Runner movie without a "Spinner," the flying cars seen causing through and above the streets of future Los Angeles in the original film. Here we see Officer K once more, but he's joined by Ana de Armas' Joi. Naturally, any and all available space in the frame is filled by that neon glow that defines the original film's look. While this is our first look at de Armas' character, this looks more like a shot from EW's photo shoot than a still from the film.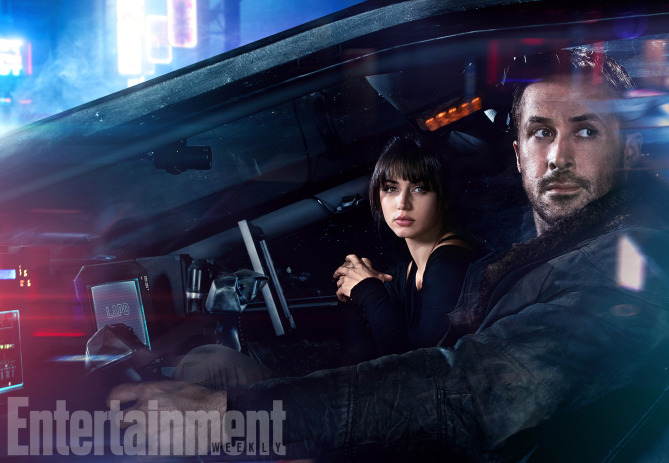 And finally, here's a great look at Officer K chilling out in a dining establishment of some kind, a seemingly deliberate echo of Deckard's visit to the noodle stand in the original movie. More importantly, this shot once again reveals that Ryan Gosling is the modern master of wearing coats and jackets. No one looks better in 'em. Of course, like the Drive jacket, you just know that every white straight man between the ages of 17 and 31 will be wearing a replica next year and they won't be able to pull it off.