Rogue One Bits: Mark Hamill's Reaction, Alan Tudyk's K-2SO Audition, And Many Of Your Story Questions Get Answers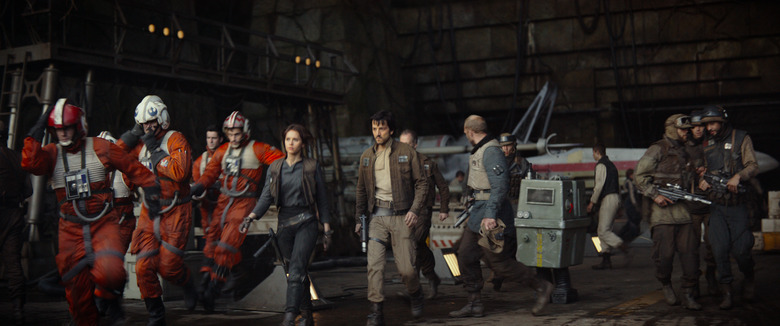 In this, the first post-release (and thus, full of spoilers) edition of Rogue One Bits:
Mark Hamill has high praise for Rogue One: A Star Wars Story.
As expected, Rogue One made a ton of money over the weekend.
Composer Michael Giacchino provides alternate track titles and discusses his process.
A look at how ILM is reinventing how you film a space battle.
Pablo Hidalgo answers your burning Rogue One questions.
Are two characters in Rogue One secretly gay?
Check out a gallery of behind-the-scenes photos.
A few K-2SO stories from Alan Tudyk.
Watch a fan-made trailer consisting entirely of cut footage.
And more!
Perfect Cast Astonishing Action Non-Stop Thrills Grabs U from the 1st frame & never lets go! Not just a great #SWMovie A #GreatMovie PERIOD! pic.twitter.com/hS25VYCVvP

— Mark Hamill (@MarkHamill) December 17, 2016
If you enjoyed Rogue One, know that you're in good company: Luke Skywalker himself, Mark Hamill, tweeted some high praise about the film. Of course, the man whose next few years are tied up in future movies in this series wasn't going to say anything negative about this one, but hey, let's not get too cynical three days after the arrival of a new Star Wars film.
I'm euphoric & exhilarated! Ingenious the way it deepens & expands the #SWUniverse yet works as a stand-alone movie #RogueOneDerful #Triumph pic.twitter.com/HXkXxTIzyd

— Mark Hamill (@MarkHamill) December 17, 2016


Rogue One opened to $155 million at the domestic box office and $135 million at the international box office, bringing the film's first weekend haul to $290 million. As expected, it's short of what Star Wars: The Force Awakens made last year, but it's still an impressive start.
All right. I'm renaming my soundtrack titles. Thanks @M_Giacchino for the alternate 'Rogue One' cue names.
- via @B_H_Heidkamp#RoguePun pic.twitter.com/BxsP4gWZFS

— Go Soundtracks (@GoSoundtracks) December 16, 2016
Movie soundtrack aficionados may already be familiar with composer Michael Giacchino's quirky way of naming each piece of much he creates. His pun-laden track titles are simultaneously hilarious and awful, begging for a groan and a giggle. So it was slightly disappointing (or was it a relief?) to see that the Rogue One soundtrack had more traditional track titles...but it looks like that wasn't Giacchino's decision, because he has now released his list of alternate titles and they're...they're certainly something else.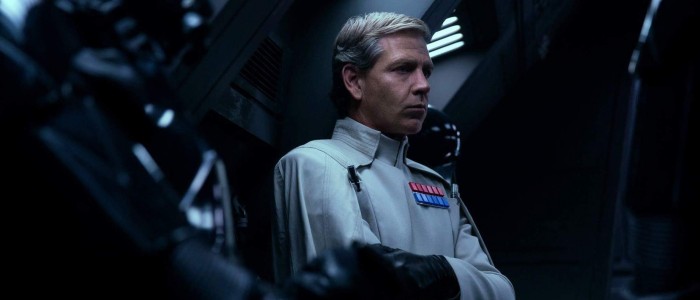 Giacchino also spoke to The Hollywood Reporter about the stresses of writing the Rogue One score, which he had to complete in a little over a month after Alexandre Desplat left the film:
It all happened so quickly, and it was not on my radar at all. During the last two recording sessions for Doctor Strange, I was thinking, "Gee, I wonder what Alexandre [Desplat] is going to do for that?" And literally the day I was done recording in London, I was at Pinewood with everyone on Rogue One and they were showing me the film and talking about it, and the next day I had the movie. It was not what I was expecting, and I had four and a half weeks to write it all. My adrenaline just shot up so quickly, and all I was thinking of was getting it done and to a level I would be happy with if I saw it in a theater, because it was Star Wars. I talked to my brother about it, and he just said, "Come on, you've been writing this since you were 10 years old." But the importance of it didn't really hit me until the recording sessions. We were at Fox, and we used the Star Wars main title as a warm-up, to have some fun and test our mics. And when that started playing, I just thought, "Oh my God, this is insane that I get to be doing this." It wasn't until that moment that I really got scared.
Seeing a demo of the virtual camera that allowed Gareth Edwards to walk through and "shoot" battle scenes in #RogueOne. pic.twitter.com/ZQ5rIx5qBY

— Film School Rejects (@rejectnation) December 4, 2016


Film School Rejects has an excellent article delving into the camera technology utilized in Rogue One. Although some of the tech is old-fashioned (modern cameras were retrofitted to accommodate the same Ultra Panavision 70mm lenses used for the original Ben-Hur), some of it is cutting-edge, like ILM's new system that allowed director Gareth Edwards and his team to film digital space battles with a handheld camera:
What ILM developed was a virtual camera system that feels like something out of Tony Stark's garage. It's a room in which a space battle can be projected along the walls (and, we're told, in hologram form) and rendered by a computer in real-time. This means that the human filmmaker?—?now taller than a moon?—?can walk through the sequence with a handheld remote camera. On his remote is a screen showing him the same image that he'd see via a viewfinder on a camera if this scenario were real. With fluid movement, said filmmaker can quite literally shoot the action as it's playing.
You can read a whole lot more at the link above.
Wired has put together a fun video where actor Alan Tudyk explains how he played K-2So, which involved him wearing a motion capture suit while walking on stilts and occasionally using long robot arm props to recreate the reprogrammed Imperial security droid's lengthy reach. It's an interesting watch, made all the better by Tudyk's obvious enthusiasm for the character.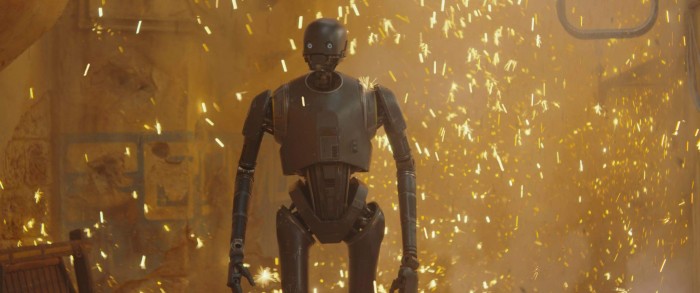 Before we move on from Tudyk, he spoke with Fandango about the audition process and how his first conversation with Gareth Edwards was conducted on an iPad over Skype at the home of an actor who is something of a modern science fiction icon:
I just got a call that Gareth [Edwards] wanted to talk to me, and so we had a Skype session – I was at my buddy's house, I didn't really take it that seriously. I was over at Nathan Fillion's house, and I was like 'Can I use your iPad – I gotta go do this thing?' So I called [Gareth] on Nathan's iPad and just had a conversation about being a robot in a movie, and to be motion capture. I thought the conversation was because I had done I, Robot, but it was more than that for him. Then he asked me to formally audition, and I recorded it with my wife at home – it was all real relaxed.
You have to wonder how the captain of the Serenity felt watching his pilot auction for a Star Wars movie...
If you don't have the time or energy to read the Star Wars novel Catalyst and learn the history of Rogue One's Director Orson Krennic, Star Wars Explained has dedicated an entire episode to the backstory of Ben Mendelsohn's scheming villain.
Pablo Hidalgo's main job involves coordinating the Star Wars canon with the Lucasfilm story group, but his other job involves clarifying things on Twitter. In this case, someone asked if Moroff (affectionately known around these parts as the space yeti) was the Constable Zuvio of Rogue One. Hidalgo says that position has already been filled by the droid C2-B5.
Hidalgo also confirmed that C2-B5 was originally at the Citadel on Scarif, but he was ultimately cut out of the movie.
And yes, characters from Star Wars Rebels (or at least their ships) were definitely present at the Battle of Scarif.
Hidalgo also provided some clarification for confused Star Wars comic readers.
While there were significant reshoots, Hidalgo says the actual ending of the film was not changed.
Why was the second Death Star finished so quickly after the first one took decades? There's actually a pretty simple answer.
And to wrap this abuse of Hidalgo's Twitter feed, he confirmed that yes, everyone really is building a big, cohesive picture with the new Star Wars canon. For the record, here's the Star Wars Rebels line he's referring to in the tweet: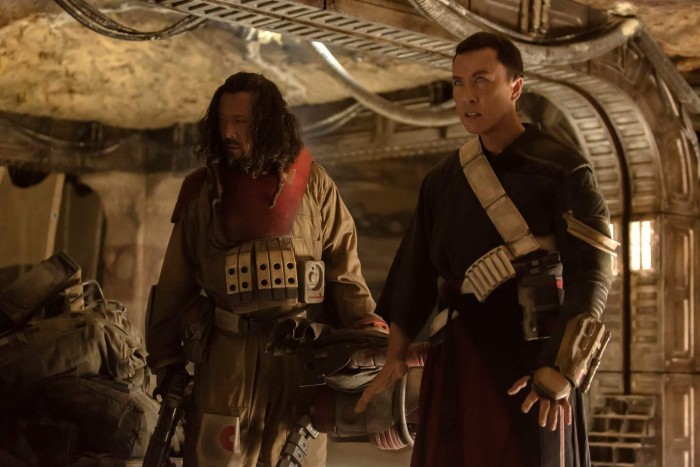 Plenty of digital ink has already been spilled about the diversity of the cast in Rogue One, but is it possible that there is something more hiding beneath the surface? Are the characters of Chirrut Îmwe and Baze Malbus, played by Donnie Yen and Jiang Wen, a couple? Kyle Buchanan over at Vulture thinks they could be:
He spends his final moments in Baze's lap, and as his friend stares down at him, devastated, Chirrut raises his hand as if to caress Baze's cheek. It's the simplest gesture, but it packs a potent, more-than-platonic current, and as Chirrut expires, it's clear that Baze does not want to live in a world without this man. He charges almost suicidally into battle, firing at Stormtroopers while repeating Chirrut's mantra over and over — finally, at the end of his life, paying tribute to his partner's guiding philosophy — until he, too, is felled. And while there are still plenty of big moments yet to come as Rogue One completes its story and links up with the familiar opening minutes of A New Hope, I couldn't stop thinking about that near caress and what it might mean. After the movie was over, I asked other audience members if they thought Baze and Chirrut could have been in a relationship, and I was surprised by how many people had been picking up on the same signal.
I'm not entirely convinced myself (I got more of a "lifelong best friends" vibe, personally), but I certainly wouldn't mind if Star Wars just quietly introduced its first gay characters on screen.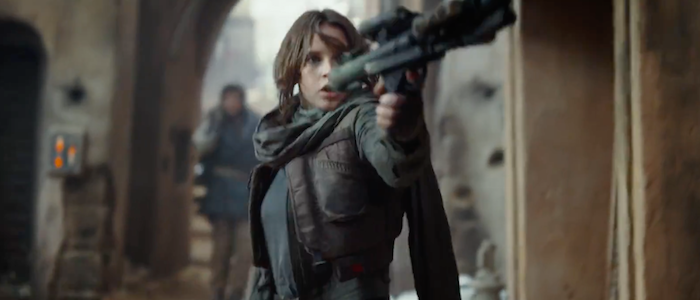 Since Hollywood is generally a sexist place where men get paid more than women by default, Felicity Jones getting a bigger paycheck for her work in Rogue One than her male co-stars qualifies as big news. From The Hollywood Reporter:
Sources say Rogue One: A Star Wars Story protagonist Felicity Jones was, by far, the highest-paid castmember. Coming off her best actress nomination for The Theory of Everything, Jones was able to negotiate for a seven-figure upfront salary to play Rebel fighter Jyn Erso. Her other castmates, including Diego Luna and Ben Mendelsohn, took home significantly less, not cracking mid-six figures.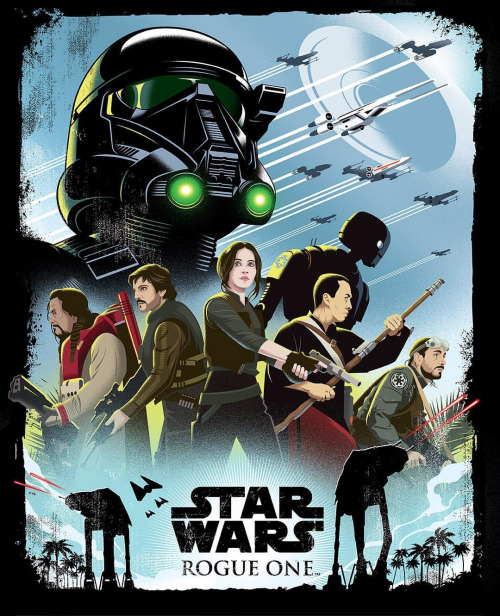 Artist Eric Tan revealed new Rogue One art that he created for a new t-shirt that is currently on sale at Disney stores.
DK Publishing has released a series of behind-the-scenes photos from their new Star Wars Rogue One: The Ultimate Visual Guide book and they're pretty darn cool. You can check out more right over here.
Hey, it turns out that footage from Rogue One works quite well with the audio from the trailer for Christopher Nolan's Dunkirk. The good folks at ScreenCrush have assembled this video, which only solidifies the new Star Wars movie's place as a proper war film.
Speaking of trailer edits, Vashi Nedomansky has put together a Rogue One trailer consisting only of footage that was in the trailers but didn't make it into the final film. It is over two minutes long.