Watch A Clip Of A 'Rogue One' Character On 'Star Wars Rebels'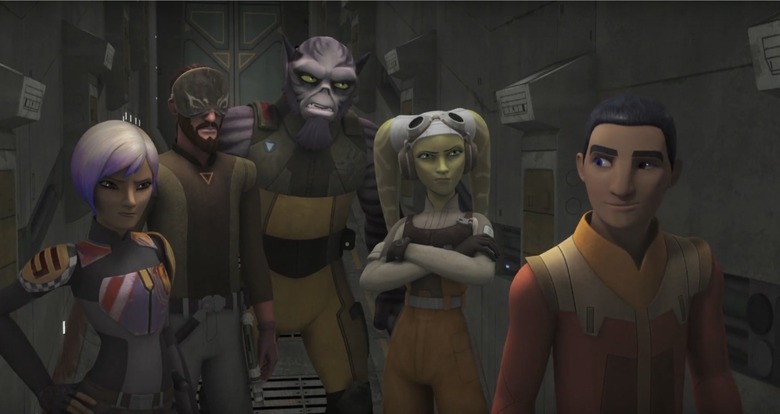 Rogue One: A Star Wars Story introduces us to a whole new roster of characters who are key to the rebellion against the Empire. And while we know that those characters don't have a role in the original trilogy that follows Rogue One's storyline, that doesn't mean we won't see them pop up elsewhere. As we learned before the weekend, Felicity Jones has a sequel option in her contract (which doesn't spoil whether she lives or dies in Rogue One with the way Star Wars movies jump back and forth in time), and now we have word of another Rogue One character's future (or rather past) in the saga.
Thanks to a promotional poster, we know that a certain Rogue One character will be coming to Star Wars Rebels. But in order to talk about who it is, we'll have to dive into spoiler territory, so you'll have to get details on this latest addition to the third season of the animated series after the jump.
Update from Editor Peter Sciretta:
Disney has released a press release and video announcing that Forest Whitaker will reprise his role as Saw Gerrera in an upcoming episode of Star Wars Rebels:
FOREST WHITAKER TO APPEAR IN SEASON 3 OF 'STAR WARS REBELS'
Academy Award-winning actor Forest Whitaker, who stars as Rebel freedom fighter Saw Gerrera in "Rogue One: A Star Wars Story," will join the cast of the hit animated series "Star Wars Rebels," which is set in a time period just prior to the events of "Rogue One." Whitaker will reprise his role as Gerrera, providing the voice of the character as he makes his debut on "Star Wars Rebels: Ghosts of Geonosis, Parts One and Two" premiering SATURDAY, JANUARY 7 (8:30-9:30 p.m. EST), on Disney XD
"It's an incredible honor to have Forest Whitaker play Saw in 'Rebels,'" says series executive producer Dave Filoni. "Forest did a great job at capturing Saw in a way that is a bit mad, a bit crazed, a bit afraid, but also a bit sympathetic. He sees something coming, but no one will take action before it's too late."
The character of Saw Gerrera was first introduced in the TV series "Star Wars: The Clone Wars" (2008-2015) as a guerrilla fighter for his home planet. Created by George Lucas, Saw received training from the Jedi – Anakin Skywalker, Obi-Wan Kenobi and Ahsoka Tano – and served as an early harbinger of the Rebel Alliance, an assortment of disparate groups coming together to fight for a common cause.
The original post from Ethan Anderton follows:
The reveal of a Rogue One character on Star Wars Rebels comes from a promotional poster that was discovered on display at a Toys R Us in Florida by the site Rebels Reactions (via MakingStarWars.net). Here it is:
Looks like Saw Gerrera is coming to #StarWarsRebels soon! @CoffeeWthKenobi #RogueOne pic.twitter.com/MMYcwr2TN5

— Rebels Reactions (@RebelsReactions) December 17, 2016
Even if you haven't seen Rogue One, you know that's Saw Gerrera, the big screen character played by Forest Whitaker who actually has roots as a character that originally appeared in the animated Clone Wars series from years ago. In Rogue One, Gerrera is described as being a little more unhinged than the Rebellion would like their key allies to be. While he used to be a key part of the Rebel Alliance, Mon Mothma indicates that some of his methods and behavior had them worried about causing trouble for them.
In the larger scope of the story we see in Rogue One, we learn that Saw Gerrera was responsible for raising Jyn Erso in her adolescent years after Director Orson Krennic (Ben Mendelsohn) killer her mother and took her father Galen Erso (Mads Mikkelsen) back to work on the Death Star. The way she was raised seems to be something that Erso resents, making Gerrera a rather interesting character, one who isn't explored or utilized nearly sufficiently enough in the movie.
As you can see in the photo, we're looking at the younger Saw Gerrera, one who doesn't need an oxygen mask to breathe better occasionally. Does that mean we might also run into a young Jyn Erso? Will the character be voiced by Forest Whitaker? We don't know the answers to these questions just yet, but we do know he'll be overseeing some kind of investigation on Geonosis. Maybe this is where we will learn why the Rebel Alliance no longer trusts him.
We're also not sure how close to the events of Rogue One are to the timeline of Star Wars Rebels right now, but there are a couple easter eggs in Rogue One hinting at the presence of the Star Wars Rebels crew (including the Ghost flying with Rebel ships and the droid Chopper). With the characters apparently being involved in the events of the movie, perhaps the animated series will eventually conclude with their part in the attack against the Empire.
Star Wars Rebels returns to Disney XD on January 7, 2017.