Gerard Butler's 'Geostorm' In Trouble, 'Judge Dredd' Director Brought In For Extensive Reshoots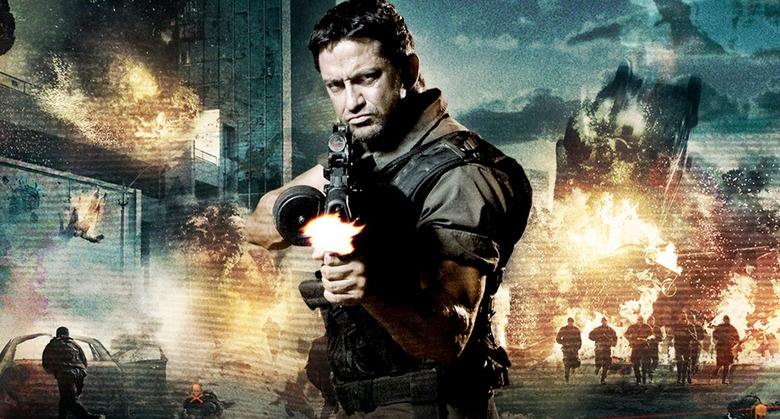 You might have read that headline and thought, "What the hell is Geostorm?" Well, you're not alone. This was a movie that was slated to arrive back in October, but ended up getting pushed back to January 2017 over the summer, only to be pushed back yet again to October 20, 2017. All this comes after the movie shot down in Louisiana in October of 2014. But now there's more bad news regarding the movie.
A new report indicates that test screenings from last winter resulted in some unfavorable audience reactions, and Warner Bros. Pictures and Skydance had some extensive and expensive reshoots over the past two weeks to fix the movie without the film's director Dean Devlin and with significant changes to the movie, including the addition of producer Jerry Bruckheimer to oversee the reshoots.
Find out more about the Geostorm reshoots after the jump.
If this is the first time you're hearing about Geostorm, the movie is said to follow Gerard Butler (seen above in a banner for Gamer) in action mode again as a mad who heads into space to prevent climate-controlling satellites from creating a man-made storm of epic proportions. And if that wasn't enough to tickle your desire for ridiculous blockbuster action, Butler's character and his estranged brother also learn of a plot to assassinate the president.
Independence Day and Stargate producer and writer Dean Devlin was making his directorial debut on Geostorm, but he's not involved in the reshoots at all, supposedly busy on another project an unable to return to finish the job. Instead, director Danny Cannon (who helmed the 1995 adaptation of Judge Dredd and has directed episodes of Gotham recently) was brought in to direct the reshoots with Jerry Bruckheimer involved as a new producer.
The studio is doing the standard damage control to say these reshoots are just traditional pick-ups that are built into movies like this, adding but the reshoots are said to cost about $15 million. The studio counters that the high cost comes from getting the international cast back together, but if these were planned pick-ups, you would think that would have been built in to the budget. Plus, there are reportedly been major changes to the movie.
Changes to Geostorm include a female scientist character being added to the script, with new pages written by Shutter Island writer Laeta Kalogridis. In addition, a character played by Vikings star Katheryn Winnick has been recast. Plus, there is "significant visual effects work and music work" that needs to be done. Yeah, that all sounds like "pick-ups" to me.
As we've said before, reshoots can give a bad impression of how a movie is developing behind the scenes. But if reshoots do their job right, then they can actually save a movie. Rogue One is the latest evidence of that, though some would contend that the movie still has problems, perhaps due to the reshoots reshaping of the movie. As of now Geostorm is still slated to arrive next year, so we'll find out then if reshoots saved this movie.