The New 'DuckTales' Casts A Bunch Of Actors You Probably Really Like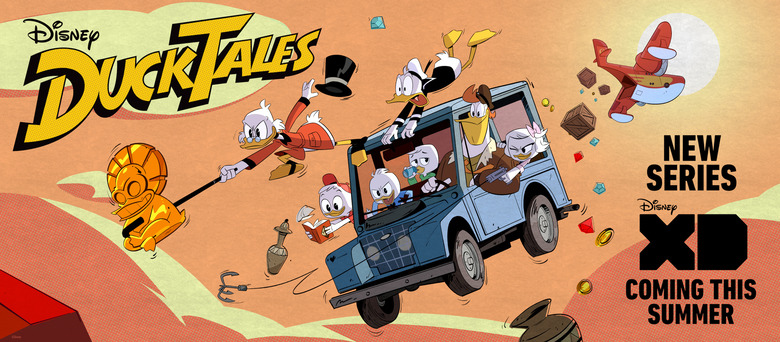 I've been very curious about Disney XD's upcoming revival of DuckTales for close to a year now, ever since they revealed the show's terrific art style and teased imagery that suggests an adventurous tone. While I enjoyed the original cartoon as a youngster, it's Carl Banks' original Donald Duck comics that shine brightly for me these days – if the new show can capture the spirit of those stories, it may count me among its fans.
We still don't know what this series will truly feel like, but we now know who will be providing the voices of the core cast and it's a whole bunch of very funny, very talented people.
The biggest coup here is the casting of David Tennant as Scrooge McDuck, Donald Duck's wealthy uncle and easily the most beloved character from both the original DuckTales series and Carl Banks' original Donald Duck comics. Tennant is best know for playing the lead role on Doctor Who for fifty episodes, but he's also known for his work in Jessica Jones, Harry Potter and the Goblet of Fire, Gracepoint, and Broadchurch. He's also no stranger to lending his voice to animated kids' shows, having played the The Fugitoid on Teenage Mutant Ninja Turtles. He steps into the shows of voice actor Alan Young, who passed away earlier this year at the age of 96.
For the roles of Huey, Dewey, and Louie, Donald's sons and Scrooge's grand-nephews, the series has cast Danny Pudi, Ben Schwartz, and Bobby Moynihan, each of whom come equipped with their own well-honed comedic chops. Pudi is best known for playing Abed Nadir on Community, Moynihan has become one of Saturday Night Live's key players, and Schwartz played the gloriously annoying Jean-Ralphio on Parks and Recreation (as well as key characters on House of Lies and BoJack Horseman).
Beck Bennett, another Saturday Night Live veteran, has been cast as Launchpad McQuack. Kate Micucci, one half of Garfunkel and Oates and a standout from from this year's Don't Think Twice, will play Webby Vanderquack. Toks Olagundoye, whose credits include Castle, Steven Universe, and The Neighbors, will voice Mrs. Beakley.
The cast wasn't announced through a traditional announcement, but rather through this video, where the cast (some seemingly more engaged than others) sing the original DuckTales theme song.
The new DuckTales will premiere next summer on Disney XD.