'Rogue One' Extended TV Spot: Director Krennic Cannot Fail And K-2SO Is Cool Under Pressure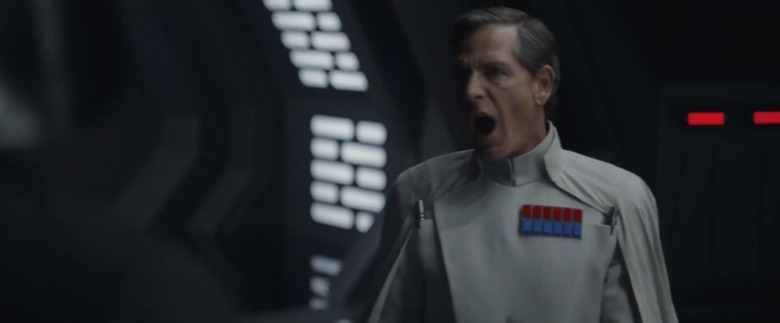 Last night, ABC aired The Wonderful World of Disney Holiday Celebration, and along with it came an exclusive look at Rogue One: A Star Wars Story. Disney CEO Bob Iger introduced the extended TV spot that mostly features footage that we've seen in the previous trailers and TV spots, but there are some snippets of new footage in there, including some new dialogue from Director Orson Krennic (Ben Mendelsohn) and a couple cool moments for the droid K-2SO (Alan Tudyk). In addition, there's an encounter with one of the new AT-ACT walkers around the 1:10 mark of the video that you might want to save for the movie.
Watch the Rogue One extended TV spot after the jump.
We're starting to see a lot of recycled footage from Rogue One, so hopefully that means they're done revealing cool shots from the movie. Surely since this is Star Wars they're not going to be spoiling the greatest moments, which is why we haven't heard Darth Vader speak at all in any of the trailers. But will he ever get his lightsaber out? With no Jedi appearing in the movie, that doesn't seem necessary, but he might have to use it to dispatch with some Rebels. Anything is possible.
Don't forget, we're not going to be seeing an opening crawl with this movie, and there are rumors as to just how the movie is going to open without that trademark scroll to start the adventure. But we probably won't have confirmation on that matter until we're sitting in theaters ready to watch it all unfold.
From Lucasfilm comes the first of the Star Wars standalone films, "Rogue One: A Star Wars Story," an all-new epic adventure. In a time of conflict, a group of unlikely heroes band together on a mission to steal the plans to the Death Star, the Empire's ultimate weapon of destruction. This key event in the Star Wars timeline brings together ordinary people who choose to do extraordinary things, and in doing so, become part of something greater than themselves.
Rogue One: A Star Wars Story" is directed by Gareth Edwards and stars Felicity Jones, Diego Luna, Ben Mendelsohn, Donnie Yen, Mads Mikkelsen, Alan Tudyk, Riz Ahmed, with Jiang Wen and Forest Whitaker. Kathleen Kennedy, Allison Shearmur and Simon Emanuel are producing, with John Knoll and Jason McGatlin serving as executive producers.
Rogue One: A Star Wars Story hits US theaters next month on December 16, and tickets go on sale on Monday, November 28 at 12:01am Eastern Time.