Frank Miller's 'Hard Boiled' Is Getting A Movie And Tom Hiddleston May Star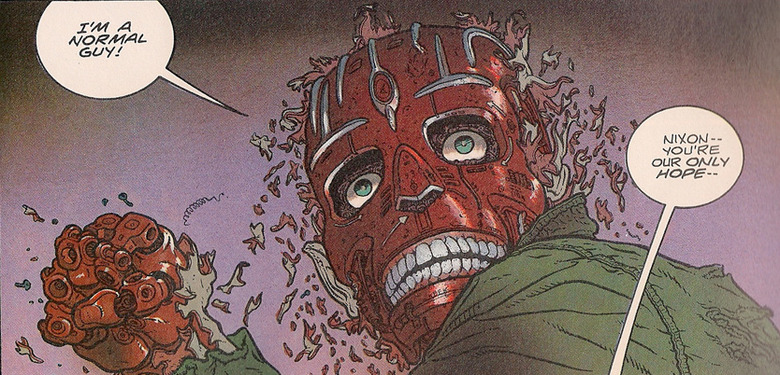 We may receive a commission on purchases made from links.
Tom Hiddleston is already one of the key parts of the Marvel cinematic universe with his role as Thor's villainous brother Loki. But if all goes well, he'll be starring in in another comic book adaptation soon enough.
Warner Bros. is in talks to snag the rights to Frank Miller and Geof Darrow's comic book Hard Boiled, and it's hoped to be a vehicle for Tom Hiddleston to lead. Furthermore, the adaptation will reteam Hiddleston with a director he's worked with before.
Deadline reports Ben Wheatley will adapt and direct the Hard Boiled movie, marking a reunion for the director and Tom Hiddleston after they worked on the challengning adaptation of High-Rise, a book by J.G. Ballard that was believed to be impossible to adapt. The mixed reaction to the film seems to prove that they may not have entirely succeeded as they hoped, but at the very least High-Rise is a wholly provocative and interesting piece of work from Wheatley.
As for Hard Boiled, here's the official synopsis of the comic book published in the year 1990:
Carl Seltz is a suburban insurance investigator, a loving husband, and devoted father. Nixon is a berserk, homicidal tax collector racking up mind-boggling body counts in a diseased urban slaughterhouse. Unit Four is the ultimate robot killing machine – and the last hope of the future's enslaved mechanical servants. And they're all the same psychotic entity.
That sounds like it has the potential to be Wheatley's most high concept film yet, though the forthcoming Free Fire could still give it a run for its money (watch the trailer over here). Putting an actor like Tom Hiddleston in this role is interesting too, because I would have thought a more clear action star might be in consideration. But with Ben Wheatley at the helm, he probably has something more than just your average action film in store.
This isn't the first time Warner Bros has attempted to turn Hard Boiled into a movie. Back in 2001, the studio had set David Fincher to direct an adaptation starring Nicolas Cage, which is something I would still like to see happen. I mean, Nicolas Cage as Carl Seltz sounds like the perfect brand of crazy. But if all goes well, I'm excited to see what Ben Wheatley can do with this gritty comic book property, so hopefully all these deals are finalized.