How 'Hoosiers' Helped Alden Ehrenreich Relax After Being Cast As Han Solo In 'A Star Wars Story'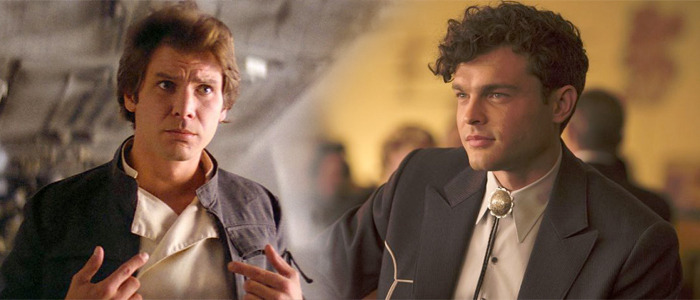 Star Wars fans are some of the most rabid in pop culture. The most hardcore of them know each and every detail of a lightsaber, they can name dozens of planets in the galaxy, they know the names of the most obscure characters with the smallest amount of screentime, and they're also the most critical of every single decision made as a movie crawls through development.
For an actor like Alden Ehrenreich, that's an especially daunting environment when you've been cast as fan favorite character Han Solo in his own A Star Wars Story installment coming in 2018. But thanks to co-director Phil Lord, one particular scene in the sports drama Hoosiers helped him calm down about the long road he has ahead of him as the galaxy's best known smuggler.
Alden Ehrenreich talks Han Solo's Star Wars Story after the jump.
Speaking with Fandango, promoting his role in Warren Beatty's Rules Don't Apply (watch the trailer here), Ehreneich was asked about how he's dealing with the pressure of being cast as an iconic character like Han Solo. As an Indiana native, I loved his response:
"[Co-director] Phil Lord made a joke and it turned out, for me, it was not a joke. He said this is like that scene in Hoosiers where [Gene Hackman] takes the kids out to the basket — and I'm gonna botch this line — but he says something like, 'How many feet up is that basket? 10 feet. And how many feet is it back home? It's the same.' [Phil] said that as we were walking up the ramp, and it helped."
If you've somehow never seen Hoosiers, it's one of the greatest inspiring sports dramas ever made. For a frame of reference, here's the scene in question:
The team at the center of the movie is intimidated by the size of the gym they'll be playing the championship game in. But their coach, played by Gene Hackman, measures the distance between the floor and the hoop, showing them that this court is the same as any other they've played in, and therefore, this game isn't any different than any other game.
For Alden Ehrenreich, he just needed to be reminded that this is just another acting job. He's doing the same job he does on any other movie, and that's all he should worry about. He went on, "[Phil] saying that really meant a lot to me, and it clues you in to the fact that this is the same job. This is the job you get to do."
Perhaps helping matters is the fact that he already feels comfortable in the Millennium Falcon. He sat on the ship for his screen test, and that seems to have helped immensely:
"What's odd about [being on the Millennium Falcon] is that it's all so familiar," Ehrenreich said. "I mean I've known it since I was a kid — I played make-believe as a kid, pretending that I was on it. So the fact that I already know the world so well, there's a comfort in that and a real excitement."
Beyond that, Alden Ehrenreich is still obligated to keep his mouth shut about Han Solo's Star Wars Story. However, he was able to talk about Donald Glover being cast as Lando Calrissian with Entertainment Tonight, "I can say that I'm really excited to work with him. I think he's going to be great in the role. He's such an interesting guy and a wonderful actor. And I think he's going to do something with that role that's going to be really exciting."
And as if there was any doubt about Chewbacca being with his buddy Han Solo in this movie, Enrenreich confirms the obvious, "I can say that Chewbacca's in the film, although I know that's not a huge spoiler. He's as much younger as I am in the film. So, I think he's like 190 — or something — years old. I don't think there's a huge growth spurt for him from 190 to 210, so he's probably about the same height." We don't know if Peter Mayhew will return or if the actor who helped him complete the role in The Force Awakens will take over, but we'll find out sometime down the road.
Production on the Han Solo spin-off is supposed to begin next year, so stay tuned for more soon enough.