'The Avengers: Infinity War' May Keep Jeremy Renner Out Of 'Mission: Impossible 6'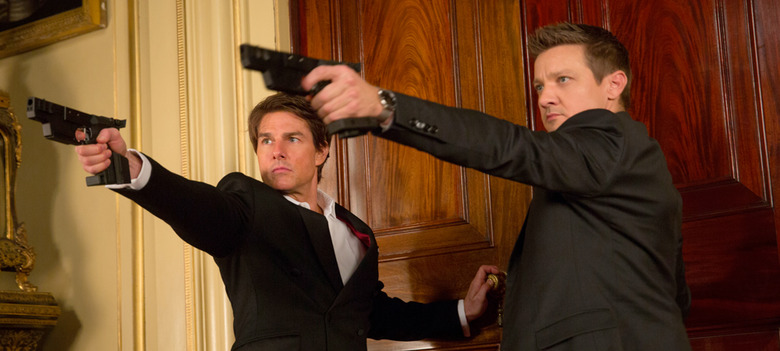 It's getting to the point that almost every good actor out there has some kind of role in the Marvel cinematic universe. Thankfully, they can't all be in every single movie in the Marvel franchise, so they get a break for a couple years at a time. But with The Avengers: Infinity War coming up, pretty much the entire roster of Marvel's surviving characters will be utilized in some capacity, and while that doesn't appear to be a problem for most of the cast members involved, it could create an issue for one member of The Avengers.
In a recent interview to promote Arrival (a movie that you simply must see as soon as possible), co-star Jeremy Renner revealed that the shooting schedule for The Avengers: Infinity War might keep him from reprising his role as agent William Brandt in the Mission: Impossible franchise.
The possibility of Jeremy Renner not returning for Mission Impossible 6 arose in a conversation with Collider. Just recently we heard that the action sequel had set a release date for July 27, 2018, which is the same year that The Avengers: Infinity War is supposed to hit theaters on May 4, 2018. That means both movies will have to shoot next year in order to meet their release date. But as of now, Jeremy Renner isn't sure how the schedules for both movies will pan out:
"I'm not sure what's happening. I know they [the Mission: Impossible 6 producers] really want to get it going and having spoken to Tom [Cruise] about where it's at I know there might be some conflict with schedules, I'm not sure what's going to happen. Avengers is going to eat up a lot of next year, I certainly hope it doesn't ultimately get in the way of Tom and I and the gang getting back together for that because I'd love to."
The good news is that the Mission: Impossible franchise doesn't need nearly as much time to be completed as The Avengers: Infinity War. You might remember that Mission: Impossible – Rogue Nation started production in August of 2014, and while the movie was originally slated for a release in December of 2015, it ended up getting bumped up six months to a release at the end of July that summer. So it could be possible for Paramount Pictures to tailor their schedule to allow Jeremy Renner to do both, especially since Marvel can be pretty flexible with their actor's schedules as well.
However, if Jeremy Renner ends up not returning, it'll be par for the course with the Mission: Impossible franchise. Over the years, several IMF team members have fallen to the wayside. Among them are Jonathan Rhys Meyers, Maggie Q, Paula Patton and John Polson, all characters who only appeared in one movie.
But the recent films have kept Simon Pegg around for three installment, even promoting him to an agent, and Ving Rhames has been around for each and every one of them as well. Jeremy Renner has been around for two, and hopefully he'll be back for a third round as well. If not, at least we know Rebecca Ferguson will be back along with director Christopher McQuarrie at the helm again. We'll keep you posted as more information becomes available.