Ghost Rider From 'Agents Of SHIELD' May Get His Own Spin-Off Series Or Movie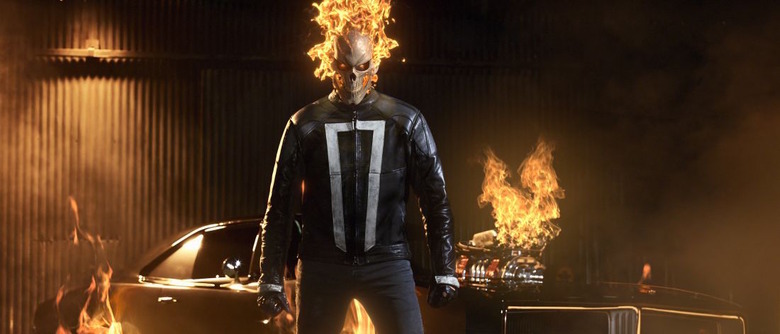 The ABC TV series Agents of SHIELD has been reinvigorated again by the arrival of Ghost Rider in the Marvel cinematic universe. Gabriel Luna has been playing the Robbie Reyes iteration of the hellfire anti-hero, and the show revealed that he even obtained his powers from a previous incarnation of Ghost Rider. But it sounds like there might be a future for the fiery biker beyond Agents of SHIELD.
According to Gabriel Luna himself, there have been discussions about where Ghost Rider can go next, and there's already deals in place to allow the character to continue outside of being a guest star on Agents of SHIELD. Find out about the potential for a Ghost Rider spin-off series, or even a movie, after the jump.
The Ghost Rider actor spoke to ComicBook.com recently, and he revealed there are loose plans that could allow Robbie Reyes to become an even bigger player in the Marvel cinematic universe. When asked if he'd like to see a Ghost Rider movie or TV show come to fruition, Luna says:
I don't have a preference. People talk about 'Ah man he'd be great as a feature,' which is [an] idea too... It could be in the cinema, it could live on Netflix, whatever it is.
It's been talked about, there's definitely deals in place for that potential. But I just take it one day at a time. I have so much fun now I just want to make sure I get these episodes right. If they throw more episodes on my plate, I will do my best to do well with those stories as well.
Marvel and ABC didn't have luck trying to create the Agents of SHIELD spin-off Marvel's Most Wanted, but a character like Ghost Rider is infinitely more interesting than former SHIELD agents Bobbi Morse and Lance Hunter (Adrianne Palicki and Nick Blood) as they continue their espionage work off the grid. However, Ghost Rider would certainly do better over at Netflix so the budget, needed for visual effects, wouldn't depend on ratings the same way it does in network television.
It's still early days on this prospect, and Marvel is pretty busy on the TV front with The Punisher getting his own series and The Defenders currently in production. But at least we know that Marvel has been thinking about keeping Ghost Rider around for more. Now if we could just get Blade in on the mix, that would be fantastic.