Where Was 'Transparent' Star Amy Landecker In 'Doctor Strange'?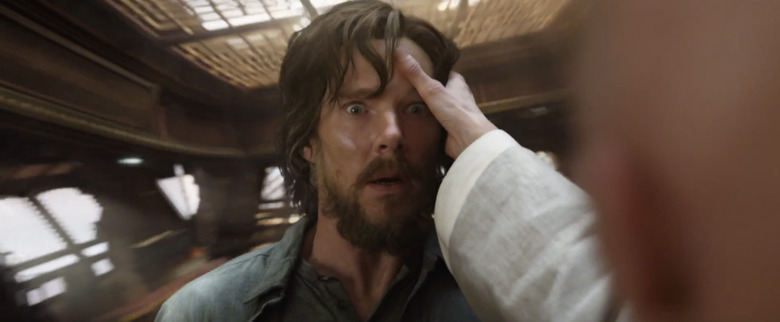 The cast of Doctor Strange features one Oscar winner (Tilda Swinton) and three Oscar nominees (Benedict Cumberbatch, Rachel McAdams, and Chiwetel Ejiofor). It features two actors so good that they don't need any stinkin' Oscar nominations (Mads Mikkelsen and Michael Stuhlbarg). There's also Scott Adkins, who would probably break an Oscar over his bicep if you asked him nicely. We can argue over whether or not the film utilizes all of these actors as well as it could, but it's one of the more impressive line-ups of any superhero movie and a reflection of some serious good taste in actors.
However, there is one noteworthy name in the cast that you may have missed, mainly because her tiny role was essentially cut out of the movie entirely: Transparent star Amy Landecker.
The AV Club spoke with Landecker as part of the site's excellent Random Roles series and it's a weird one. She went into the audition having not read the script (which is standard for most major movies) and only knowing that her character would flirt with Benedict Cumberbatch in a surgical scene. She got the part, flew to the set in England and learned the truth about her part:
So I get to England, and I'm there a week—a few days before everybody else, because they were shooting in another country. They said they needed me there to take lessons in brain surgery and to do my hair and makeup test. But it turned out that, when I get there, I'm in a mask and scrubs and a surgical cap. The entire film. There will not be a moment in the film where I do not have the mask on my face. So I'm finding out... Okay, so my performance is my eyes. Okay. I'm humble. Okay, I'm still in a Marvel movie. It's still really exciting.
It turns out that Landecker plays the anesthesiologist briefly glimpsed in Doctor Strange's opening act, before the title character even has the life-wrecking accident that sends him on the road to superhero-dom. Landecker ended up bailing early to attend a Transparent screening at the White House (a stand-in finished her scenes) and, quite frankly, I don't blame her. To watch your beloved television show with the President of the United States or to play a bit part in a movie where your face is hidden the entire time? Tough decision.
So why was Landecker cast in the first place? It turns out that director Scott Derrickson just has really good taste in movies:
So it turned out that the director was a really big A Serious Man fan. And Michael Stuhlbarg was in that second scene. So, the whole thing was kind of a fun "let's get Michael Stuhlbarg and Amy back together" in Doctor Strange. And then I got a call that I was edited out of the film. Now I guess may not be true if I'm still in the credits. I don't know. I haven't seen it yet.
A Serious Man is one of my favorite Joel and Ethan Coen movies and a contender for one of the best films of the past decade, so I totally get where Derrickson is coming from. Stuhlbarg (who plays Strange's rival surgeon, Nicodemus West) also doesn't have much to do in the film, but who wouldn't want to put these two in the same movie one more time? Even if the results are frustrating, it sounds like everyone's heart was in the right place. Plus, if gives us a chance to dwell on just how great A Serious Man is while writing an article about a Marvel movie.
Doctor Strange is in theaters now. It is very, very good.